Zackary Gray, 22, of Blessed Trinity Parish, Ocala, said he felt God calling him at an early age; however, he was not sure how to serve Him. As he grew older, God's calling to the priesthood became clearer. Today, Gray is among the class of 14 young men from the Diocese of Orlando who are beginning their journey of discernment by entering the seminary.
Pictured left: First-year seminarian Daniel Perez prays the Lord's Prayer during the celebration of Mass with Bishop Noonan.
Gray said prayer led him to where he is today. His pastor helped him to see how important prayer is to discerning your vocation.
"My pastor, Father Pat (Sheedy), said words that struck me deep," Gray said. "He said that the relationship between God and a priest is like a long-distance friendship. If you don't call your friend and talk to them, eventually you will drift apart. For anyone who is discerning or is a priest, it is essential that you pray or you will lose your way.
"I have taken those words to heart and I feel the rewards from prayer," he said.
Once again this year, the Diocese of Orlando has noted an increase in the number of men entering the seminary. This year's class noted an increase of seven men from last year. At present, 35 seminarians from the diocese are enrolled at St. John Vianney College Seminary, Miami, and St. Vincent de Paul Regional Seminary, Boynton Beach.
But before classes begin, the men participated in the annual seminarian convocation, Aug. 1-3, at San Pedro Spiritual Development Center, Winter Park.
"To see their youth is a real gift for the future," said Bishop John Noonan. "Anyone who comes and sees these young men would be overjoyed to see the faith, the hope and the future that they are going to bring to the Church. They are a real ray of hope to all of us."
Father Jorge Torres, diocesan director of Vocations, attributes this increase not only to a growing presence of vocation committees within parishes that promote vocations to the priesthood and religious life, but more importantly to prayer. He said that throughout the past decade, dioceses, parishes and individual families have started asking the Lord to send us those who will lead us. In addition, he added, these men are coming to the seminary with a deep commitment to their own prayer lives.
During his visit to the United States, Pope Emeritus Benedict XVI was asked by one of the bishops what we can do to increase vocations," Father Torres said. "He said to teach them to pray. If you teach a young person to pray, you can trust that they will follow their vocation.
"In universities, in high school youth groups and even in the professional world, our men are learning how to pray," he said. "Prayer means that they have a relationship with the Lord. They trust that the Lord will answer their questions and they can express hesitations about a vocation and the Lord will respond. That by itself is a key factor."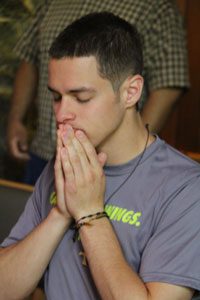 Like his brother seminarian, prayer has been at the center of discernment for Christopher Torres (pictured right) of Most Precious Blood Parish, Oviedo.
"Jesus Christ is God's Word, and that Word gives us life," Torres said. "The more you know Jesus through prayer the more you realize what he created you for. By getting to know Him, I got to know myself.
"By spending time with Him in prayer and Adoration and letting His light penetrate my heart, it became obvious what He created me for," he said. "I easily saw it without looking for it."
Father Torres said he looks forward to working with the incoming seminarians as they grow in their faith lives.
"We have guys who have discerned for several years," he said. "They are very faith-filled and willing to learn. They are committed to their parishes and have been inspired by their local priests. They are seeking to respond to the Lord."