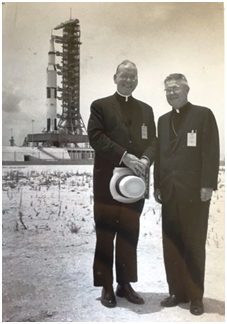 Bishop of the Moon?! –By Renae Bennett, Diocesan Archivist.
Most of you know that the very first Bishop of Orlando was William D. Borders, a humble, kind, courageous, collegial man. A man of service who listened; thus, his Episcopal Motto, "Auscultabo Ut Serviam/ I will listen, that I may serve."
Among the many anecdotes and stories regarding Archbishop Borders is a charming one about his "ad limina" visit to Pope Paul VI in 1968.
From its creation the Diocese of Orlando included Brevard County, home of Cape Canaveral, launching site for the Apollo moon missions. During his visit Bishop Borders mentioned to the Pope that he was the bishop of the moon. Upon the Pontiff's perplexed reaction be explained that according to the 1917 Code of Canon Law (in force at that time) any newly discovered territory was placed under the jurisdiction of the diocese from which the expedition which discovered that territory left. And in this case, the expedition to the moon left from Cape Canaveral, in Brevard County, in the Diocese of Orlando!
Pictured on top left: Bishop Borders with Pope Paul VI.

Pictured on right: Bishop Borders (on right) with Cardinal Cooke, July 1969. Florida Catholic photo.