Nearly 300 people, including priests, educators, and communication leaders in the Diocese of Orlando, gathered May 5 at Holy Family Parish for the 2015 Diocese of Orlando Stewardship and Communications Day. The day-long event, sponsored by the Catholic Foundation of Central Florida, Inc. and the Diocese of Orlando Office of Communications, featured keynote talks and a myriad of Spanish and English breakout sessions centered on stewardship and communications within a parish. The event culminated with the celebration of Mass with Bishop John Noonan.
"Stewardship and communications are about our relationship with God echoing through our daily lives as we share our encounter with his son, Jesus Christ," Bishop Noonan said. "During this gathering, may you discover the joy of stewardship and the richness of communications which flow from God's love. May today's efforts bring an encounter so full of promise that we leave these halls to serve one another as good stewards of God's varied grace."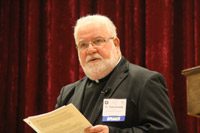 The event kicked off with a morning keynote presented by Father Tom Gentile, pastor of Mary Queen of Peace Parish in the Archdiocese of Louisville, who spoke about "The Spirituality of Stewardship." He said that stewardship is based on discipleship, and discipleship is based on people truly believing in God's ownership in the gifts and blessings of their lives.
"We have to convert people's ideas from it is all about 'me' to it is all about 'we'," Father Gentile said (pictured right). "It is not about what I have to do. It is about what God has entrusted me with his help to do. That is a conversion that our world needs to hear."
"Stewardship is an expression of discipleship," he continued. "It has a power to change our lives. Disciples who practice stewardship recognize that God is the origin of everything. If you understand that it is all God's, then the rest of it all falls into place."
In his keynote address, "How to be an Evangelizing Parish in the Digital Age," Greg Erlandson, president and publisher of Our Sunday Visitor, also spoke about the importance of becoming a disciple. He said many parish and diocesan staff are uncomfortable with the word and don't think of themselves as disciples.
"The dictionary tells us first that a disciple is a student, a pupil. The word comes from a Latin root that means 'to learn.' Discipleship is a process of learning. As followers of Christ, we are all learners," Erlandson said.
He said that discipleship is a journey and evangelization is journeying with other people.
"To evangelize effectively, we must journey with people. As Pope Francis said in a talk to communicators, we don't walk in front of them, we walk beside them. This is a key to any truly successful evangelization. This is what disciples do. And it is the real power of social media, because it lets us meet people where they are on the journey," added Erlandson.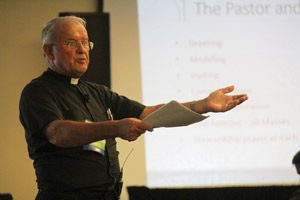 One of the highlights of the breakout sessions was a talk given by Father Pat Sheedy (pictured left), pastor of Blessed Trinity Parish in Ocala. For more than 25 years, the parish has operated as a stewardship parish, in that parishioners joyfully share their time, talent and treasures. Children whose parents embrace the Stewardship Way of Life receive a free Catholic education through high school.
"Stewardship is a spiritual matter, not a financial matter," Father Sheedy said. "A full understanding of the spirituality of the Stewardship Way of Life and then the faith and courage to live by it is the only answer. It is a no brainer. It works all of the time."
Throughout the conference, many people described the event as a well executed educational event. Among those was Peter Randlov, principal of St. Peter Catholic School in Deland.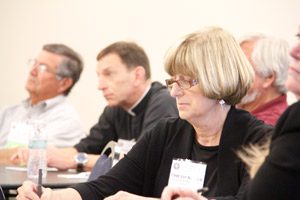 "I think this Stewardship Day is an excellent opportunity for the Diocese of Orlando to come together and as a unified force learn ways that we can foster stewardship in our families as well as our parishes and thus evangelize our faith," he said, adding that he has not only learned a lot from the breakout sessions, but also from the other participants, as they shared their ideas and experiences.
I am getting so much out of this event," he said. "I can't wait to get back and implement these ideas."
One of the main messages of the conference was that everyone is a steward of the Church and Catholics are called to cherish and foster the gifts of each person to serve the community of faith.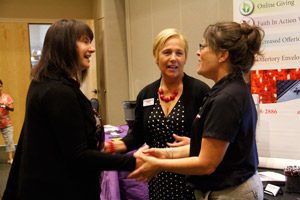 "As Disciples of Christ it is essential that we use the talents, spirituality, intellect and treasures the Lord has given us to give back in a way that lift our Church in a meaningful way," said Meghan Post, president of The Catholic Foundation of Central Florida, Inc.
Bishop Noonan repeatedly encouraged attendees to nurture a deep and abiding relationship with Jesus Christ as the foundation for fruitful ministry.
"Our goal is to build the lives of our people with faith, with hope with love," Bishop Noonan said during Mass. "And the only way we can build it up in faith, hope, and love, is if we, too, embrace the faith, hope and love of Jesus Christ in our lives. Jesus Christ is knocking at the doors of our hearts. Are we welcoming him? Are we encouraging him to come into our lives so we can share him with the world?"