On October 14, the lobby at Catholic Charities of Central Florida was filled with people waiting for their names to be called. Some waited for over an hour with their young children who sat on the floor and colored. Others sat alone reading the newspaper. Some passed the time in conversation with family or others sitting nearby. All had one thing in common: they were seeking mercy and compassion in the form of food, rent assistance and guidance.
Sandy Diaz, a case manager with Emergency Family Services at Catholic Charities, called two families next.
José Luis and MacCarly had been friends in Venezuela before coming to the United States with their families to seek asylum and escape the unrest and violence in their home country. They had come to Catholic Charities for food assistance and Legal Immigration Services. It was MacCarly's 28th day in the United States, while José Luis arrived in January.
This was José's third time receiving food assistance from Catholic Charities' Semoran Food Pantry since he arrived in January with his fiancé and soon-to-be step son. MacCarly is just beginning the legal process with her husband and two children and needed food assistance this month.
Both had been teachers in Venezuela. MacCarly taught physical education at a public school and also has a degree in law. José Luis has a degree in social communications and taught journalism at a Catholic school and volunteered at an education program with NASA and a foundation for youth baseball.
José Luis said that his volunteer work with NASA led the Venezuelan government to believe he was a spy for the United States government.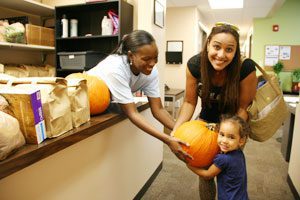 "The Venezuelan government bombed the school where I worked and vandalized our baseball stadium. They sent threats to my home and to my fiancé and her son. We were afraid for our lives," said José Luis who came to the United States to seek asylum and build a new life for his family. "I feel safe here. I feel like I am home."
He plans to apply to teach after he receives his work authorization.
"Our clients struggle to provide basic needs such as rent, utilities and food. Thanks to our supporters, we are able to relieve some of their financial strain through our Emergency Family Services Program and provide food assistance through our food pantries so they don't go hungry," said Diaz.
The ministry of Catholic Charities of Central Florida is helping more than 16,000 people each year to stay in their homes and avoid eviction or foreclosure. The ministry is providing food to more than 47,000 people each year who are hungry and worry about putting food on the table for their families. The ministry is providing life-saving medical treatments to more than 3,500 people each year who lack health insurance and is caring for the serious needs of more than 7,000 refugees and immigrants each year who arrive in our community with nothing but the scars of war, famine and persecution.
"For some of us, we have walked in the footsteps of those we serve and experienced their suffering. For others, we have family members or friends who have. However, we have also witnessed the power of God's loving mercy through the care and compassion we provide to the families we serve," said Gary Tester, Executive Director of Catholic Charities of Central Florida.
The theme for the 2015 Catholic Charities of Central Florida Annual collection is "Blessed are the merciful." The words were spoken by Jesus Christ during the Sermon on the Mount and are part of the Beatitudes.
"Jesus calls us to be merciful; to show forgiveness and compassion to those in need," said Bishop John Noonan urging the faithful to share God's gift of mercy with those in need. "As we are merciful, we experience a spiritual blessedness, a divine satisfaction that comes from a right relationship with God."
"May the gift of God's mercy be upon those who are merciful," Bishop Noonan added.
Thanks to the generosity and support from volunteers and donors, Catholic Charities of Central Florida served more than 100,000 people during last fiscal year.
For more information, visit www.cflcc.org/annual-collection/.