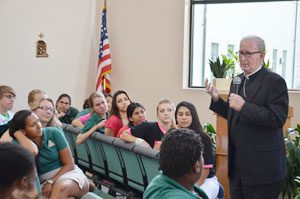 A former high school principal, Bishop John Noonan is attentive to the needs of students, specifically upperclassmen.
That is part of the reason why he is visiting with each senior class at the five Catholic high schools in the Diocese of Orlando. Bishop Noonan is meeting with seniors to help them in their faith journey and help them as they transition to their next phase of life.
"You could know your religion, but if you don't have that experience of God in your life, it's hard to make sense of your religion," Bishop Noonan said. "To paraphrase Pope John Paul II, in order to live a Christian life, you have to have faith and reason."
Bishop Noonan met with seniors at Trinity Catholic High School in Ocala on Sept. 19. He initially met with a small group of senior class leaders to discuss how they might integrate their faith by making an impact on different communities. He shared experiences of when he was principal and students participated in missions and visited the sick in hospitals.
At Trinity, Bishop Noonan suggested that students participate in retreats throughout the school year, not just in the year-end senior class retreat. He said sports teams and clubs could hold retreats to make time for prayer and enkindling deeper faith.
Bishop Noonan also met with the entire senior class in the school's chapel to answer questions and exchange ideas on how to enhance the school for the future. He told students about the role of a bishop, discussed his own journey to the priesthood and shared stories of those who made an impact on his life.
Rebecca was among the 100-plus students gathered to listen to Bishop Noonan.
"I really liked how he wants to know our ideas on how we want to better our school, as a whole," she said. "Just knowing that he is here to support us, helping us to make our school a great place for future generations – it means a lot.
"He wants to make an impact, both spiritually and academically, on our lives, before we take that next big step into the real world," she added.
Bishop Noonan visited Santa Fe Catholic High School in Lakeland in early September. He will meet in October with students at Bishop Moore Catholic High School in Orlando, Father Lopez Catholic High School in Daytona Beach and Melbourne Central Catholic High School.
Bishop Noonan said he also plans to meet with each senior class at each school a second time during the second semester.