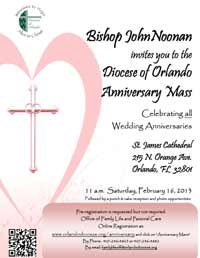 All married couples, especially those with significant anniversaries, are invited to the Diocese of Orlando Wedding Anniversary Mass celebrated by Bishop John Noonan on Feb. 16 at 11:00 a.m. at St. James Cathedral, 215 N. Orange Ave., Orlando. Download flyer in English or Spanish.
During this Mass, married couples will receive a blessing and renew their wedding vows to strengthen and honor their marriage, a sacrament that brings couples closer to God and to each other.
After the Mass, all couples are invited to stay for a cake and punch reception and to be photographed with Bishop Noonan (as time permits). The Wedding Anniversary Mass is organized by the Diocese of Orlando's Office of Family Life and Pastoral Care.
"The Diocesan Anniversary Mass is a witness to the importance of the Sacrament of Matrimony and the Vocation of Family Life, which God calls some of us into as the domestic Church," said Gigi Santiago, co-manager of the Office of Family Life. "As the domestic Church, we learn our faith, through the everyday spirituality of loving and forgiving in a familial way. We learn from each other that God calls us into relationship with each other and Him."
Pre-registration is requested but not required. Online Registration at: www.orlandodiocese.org/anniversary and click on "Anniversary Mass" or by phone: 407-246-4865 or 407-246-4882 or by email: familylifeoff@orlandodiocese.org.
Catechism of the Catholic Church on marriage: "Christ the Lord raised marriage between the baptized to the dignity of a Sacrament" (Catechism of the Catholic Church #1660). As a Catholic community, we celebrate the nuptial union that is intended to "perfect the couple's love and strengthen their indissoluble unity" (Catechism of the Catholic Church #1641).
U.S. Bishops on marriage: (Marriage: Love and Life in the Divine Plan, 2009) "Among the many blessings that God has showered upon us in Christ is the blessing of marriage, a gift bestowed by the Creator from the creation of the human race. His hand has inscribed the vocation to marriage in the very nature of man and woman (see Gn 1:27-28, 2:21-24)."