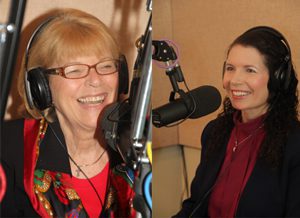 Buena Nueva 104.1 FM, the official Spanish-language radio station of the Diocese of Orlando, is reaching out to a broader audience with the addition of six radio shows broadcasted in English. Marjorie Rosa, station director, said she was pleased with the response, not only from the audience but from the many diocesan offices that claimed air time to inform and inspire listeners.
Pictured: Heidi Peckham (left) and Christine Shields (right) update listeners with Pastoral Ministry updates.
"We made this move because we are a diverse country, and as Catholics, we are called to be Universal," Rosa said. "It has been a blessing for everybody to come in."
The first of the new programs was launched in mid-September with the airing of Poetry and Prayer, hosted by Dan Hardester, diocesan director and secretary of Evangelization. During the ½- hour time slot, Hardester discusses the upcoming Sunday's scripture readings and offers reflections and poetry.
"As a religious educator, the radio show allows me to offer faith formation to adults and share my love for the Liturgy of the Hours and poetry," Hardester said. "I fervently hope that my show enables listeners to reflect on their day from the perspective of the liturgical year and our Catholic feast days and solemnities."
Additional shows broadcast in English include:
Today's Catholic with Teresa Peterson, Mondays, 2:30 p.m.
Foundations with Ed Wardle, second Monday of the month, 2 p.m.
Live out Loud with Deborah Shearer and Alejandro Luciano, Fridays, 10 a.m.
Pastoral Ministries Updates with Heidi Peckham and Christine Shields, Fridays, 11:30 a.m.
Poetry and Prayer with Dan Hardester, Fridays, 2 p.m.
Mass from St. John Vianney, Saturdays, 5 p.m.
Lastly, senior director of Faith Formation, Dennis Johnson, Jr., is hosting a new Spanish-speaking program, Aló Católico every Friday morning at 10:30.
Buena Nueva FM 104.1 sub-carrier is a Catholic radio ministry of the Diocese of Orlando. The signal uses 100,000 watts for wide coverage of the nine counties of our Diocese. The recording and broadcast studio is located in the downtown Orlando offices of the Chancery.
To listen to Buena Nueva FM over the air, you must purchase a special radio from your parish or from the Diocese. The radios have a special adapter that allows listeners to access the FM sub-carrier stations as well as standard AM/FM stations. The station is also live streamed on www.buenanueva.fm. For more information, call Buena Nueva station director, Marjorie Rosa, 407-246-4884.