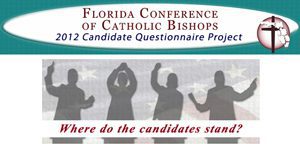 Catholic faithful are called to political engagement shaped by the moral convictions of a well-formed conscience and focused on the dignity of every human being, the pursuit of the common good, and the protection of the weak and the vulnerable.
To help parishioners become informed on where candidates stand on key issues, the Florida Conference of Catholic Bishops has polled those running for office in the U.S. Congress and Florida Legislature.
Click here to see how candidates responded to the questionnaire.
The positions of the presidential candidates on a broad range of issues have been compiled from policies, public statements, official and campaign websites, and other resources.
View Know the Positions of the Presidential Candidates in English or Spanish.
For more information on moral obligations inside and outside the voting booth, see Forming Consciences for Faithful Citizenship, A Call to Political Responsibility from the Catholic Bishops of the United States and additional resources located on the websites of the U.S. Conference of Catholic Bishops and the Florida Conference of Catholic Bishops.