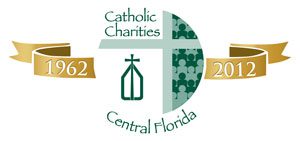 Resolve to Help our Neighbors in Need in 2013
As you make your New Year's Resolutions for 2013, remember our less fortunate brothers and sisters and resolve to help those in need. Catholic Charities of Central Florida offers five simple ways to lend a hand this year:
Volunteer in one of our food pantries, with a newly arrived refugee family, with the homeless at Pathways to Care, or with any one of Catholic Charities' many programs. Don't forget to log your hours to count towards the 50,000 Hours of Service Challenge. Contact our volunteer coordinator to learn more: anita.capetillo@cflcc.org.
Host a Food Drive to help keep our pantries full and feed hungry families in Central Florida. Contact your local Catholic Charities office for the most needed items.
Donate to Catholic Charities by adopting a program to support.
Attend one of our upcoming fundraiser events:
The Empty Bowls Dinner Gala in Lakeland on February 1 will feature an auction of bowls painted by local andcelebrities and will benefit the Agape Food Bank.
Taste of the Villages on February 6 in Wildwood will benefit the Lazarus Free Medical Clinic with a food tasting and live and silent
Pray for the people we serve, Catholic Charities staff, and volunteers. Visit Acts of Prayer for prayer resources.
Catholic Charities Adoption Orientation and Information Session
Are you considering growing your family through adoption? Attend Catholic Charities free information session to learn about the adoption process, help you decide if you are ready to pursue adoption, and discover how Catholic Charities can guide you through this journey. The information session will take place at the Catholic Charities office located at 3800 W. Eau Gallie Blvd. Suite 101 in Melbourne, FL on January 17, 2013 from 6pm-8pm. A list of topics to be covered and more information may be found by visiting the Catholic Charities webpage. Contact Carrie Thomas to reserve your seat.