On Thursday, June 25, multiple churches, agencies and community members throughout Ocala gathered to celebrate the opening of Open Arms Village (OAV) located at St. Mark's United Methodist Church, NE 8th Rd.
An initiative two years in the making, OAV is an ecumenical effort to bring hope to homeless men and women in Ocala who want to change their lives for the better.
"This is not a shelter, but a homeless rehabilitation center for men and women who are motivated to get back on their feet," said Alan Rettig, Director of Preventing Homelessness at Catholic Charities of Central Florida (CCCF), the social services agency providing case management to residents in partnership with Blessed Trinity Catholic Church.
Reverend Susan Gray, Pastor of St. Mark's United Methodist Church, spoke about the role faith in this initiative.
"We do it because Jesus had a concern for the poor. We want to extend and make real the love and grace of God for others. We wouldn't be able to do this without support from partners like Catholic Charities. We are truly blessed by their support," said Reverend Gray.
Plans for OAV began when Ocala Mayor Kent Guinn organized a committee to help build a program designed to support and empower the homeless in Ocala, but could not find the right location.
"This beautiful partnership came together because of a mission looking for a home and a home looking for a mission. We want our residents to feel like they belong and give them a sense of community, faith and hope," said Reverend Grey.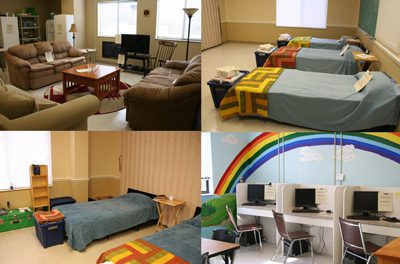 Community partnerships helped transform the facility from various meeting rooms and a children's nursery into living spaces for men and women including sleeping areas and the addition of a laundry room and shower for the residents. With plans to expand, the center currently has the capacity to serve 17 men and 13 women.
OAV features a specialized case management model that holds each resident responsible for their path to independence. Residents are required to develop a plan that outlines their road to self-sufficiency and evaluate their progress with a case manager. Residents are also required to volunteer a certain number of hours each week to help maintain the center.
"Some might say these are high expectations, but as Christians, the Lord puts expectations on us and we need to put expectations on ourselves," said Rettig.
Chris is one resident with renewed hope for the future thanks to Open Arms Village.
"I was stuck and asked myself – how did I get myself into this situation and how do I get myself out?" said Chris, a former restaurant manager who lost his job and home to an addiction that consumed his life.
He says balance is now a huge part of his life so that he can work his part-time job to save money and volunteer to be more active in his faith.
"I've had a tremendous faith walk over the last year and that's made me look at life a little differently and realize it's not all about the material things," said Chris. "Volunteering helps me give back to the people who helped me find my balance while offering support to others like myself who are in need. I'm thankful to these organizations working together to help people like myself out of poverty and homelessness."
Contributors to Open Arms Village include:
Catholic Charities of Central Florida providing case management services in partnership with Blessed Trinity Catholic Church
St. Mark the Evangelist Catholic Church in Summerfield who donated a washer and dryer
Brother's Keeper, a ministry of Blessed Trinity Catholic Church, providing daily lunch
Second Bethlehem Baptist Association, providing daily breakfast
Career Source, providing computers for job skills training and job searches
First United Methodist Church, providing construction and facility maintenance