On August 5, Resurrection Catholic Church and Agape Food Bank in Lakeland partnered to distribute over 9,000 pounds of food to more than 200 families and individuals who struggle with food insecurity. Nearly 80 community volunteers helped with this effort that involved setting up a mobile food pantry at Resurrection Catholic Church. Fifty of the volunteers were middle school students from Resurrection's youth group work camp. Students spent the entire week donating their time to improve the lives of people in their community.
"The teens described the experience as humbling. They were enlightened to see that those who have a hard time feeding their families don't really look different than they do," said Maggie McGowan, Director of Youth Ministry at Resurrection Catholic Church. "They commented on how polite and grateful the individuals were to receive the food. They felt good that they were able to assist, and they said they are now much more appreciative of what they have."
Agape Food Bank is a program of Catholic Charities of Central Florida that holds an average of three mobile pantries per month in local communities that have an overwhelming need for food resources.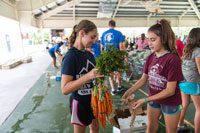 "We try to bring the most nutritious foods such as fresh fruits and vegetables when possible. It's important that we gather these healthy options for the people we serve because we are often their only source for a healthy meal," said Tony Allen, Agape Food Bank Warehouse Manager.
Allen says there is always a need for volunteers to help the food bank prepare for a mobile food pantry.
"These volunteers are usually members of the community who step up to help their neighbors. It's wonderful to see such compassion," said Allen.
In Polk County, one in six households is food insecure which means they are not always able to provide nutritious food for their family. Seventy-eight percent of Polk county school children are eligible for free or reduced lunch.
Preparation for a mobile food pantry begins at the Agape Food Bank warehouse where volunteers pull fresh fruits, vegetables and other nutritional items to set aside for distribution. Next, volunteers and staff load pallets of food onto a refrigerated truck. The food is then delivered to the designated distribution site and unloaded by a team volunteers who work together to setup the tables of food to hand out to families in need. The set-up is similar to a farmer's market in that needy families are then able to select foods that meet their nutritional and personal preferences.