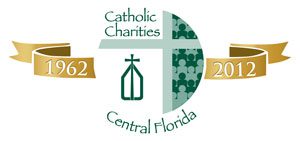 All Money will go to Emergency Family Services to Help to Local Struggling Families
A special collection at all 93 Catholic churches in Central Florida will be taken November 3 and 4 to help the poor and hurting in our area. One hundred percent of the funds collected will be used for emergency family services, helping individuals and families in crisis who have nowhere else to go. The entire community is asked to support this collection, regardless of religious affiliation.
"All are invited to join in these efforts to assist their fellow neighbors in desperate need," says Executive Director, Joe Buranosky. "Your generous donation can potentially help a family maintain a home and stay together this holiday season."
Community support is critical so that Catholic Charities may continue to provide hope to those experiencing hunger, unemployment, and traumatic and emotional struggles. The need is growing and so the agency asks the community to respond generously. Support this important special collection for direct service to the poor in the area where it was collected. With an increase in need for assistance and a decrease in funding, the annual Special Collection is more important than ever.
In 2011 over $315,000 was raised. These donations allowed:
A woman and her children at risk of becoming homeless to pay the deposit on low-income housing, providing a safe home for the family
A man, newly retired and recently released from the hospital, to pay his overdue household bills while staying on top of his medical expenses
A widow to catch up on mounting bills and have her lights turned back on after repairing emergency water damage drained her savings
Poor and struggling families in Central Florida to find hope for the future
This year Catholic Charities is committed to helping even more people in poverty. In response to the growing need in the community, the agency has set a goal of raising $500,000.
"In these difficult times more people are struggling than ever before," explains Buranosky. "This new goal will allow us meet that need and help people who have nowhere else to turn. We can't do it without the community's support."
To donate, please contact Catholic Charities at 1-888-658-2828 or go to www.cflcc.org and click on the red donate tab. When donating, please identify your county so funds may go directly to the poor in your area. To find out more about Catholic Charities of Central Florida visit www.cflcc.org.
Catholic Charities of Central Florida is the largest non-profit social service organization in Orlando. Their mission is to provide vital social services for people in need regardless of their religious, social, or economic background, to improve lives of individuals, families and the community. These social services include emergency financial assistance, food, counseling, transitional housing and affordable housing programs.