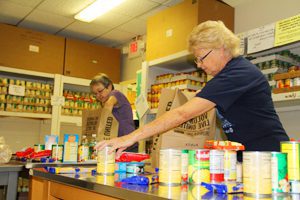 When Rosie (not her real name) came to the Catholic Charities Food Pantry in Orlando she expected a bag of groceries but received so much more. For four years, Rosie and her family have struggled to make ends meet after losing her job following the birth of her second child. Unable to make rent payments, she was evicted from her home and was left living out of a hotel.
When Catholic Charities caseworkers heard Rosie's story she was enrolled in the Family Stability Initiative.
"The Family Stability Initiative is a program to help families with school-aged children to become self-sufficient," explains Program Manager Diazina Mobley, MSW, LCSW. "We build employability, help find jobs, assist with housing, and do an assessment to see what it will take to get a family back on their feet."
Money donated to the annual Catholic Charities Special Collection helps make programs like the Family Stability Initiative possible. The collection will take place this year on November 3-4 and is essential to meeting the needs of the less fortunate in our community.
This year Catholic Charities is committed to helping even more people in poverty. In response to the growing need in the community, the agency has set a goal of raising $500,000.
"In these difficult times more people are struggling than ever before," explains Joe Buranosky, executive director, Catholic Charities of Central Florida. "This new goal will allow us meet that need and help people who have nowhere else to turn. We can't do it without the community's generous support."
100% of the donations go to direct service of the poor in the region where it was collected. None of the money is used for overhead or administrative costs but instead contributes towards services like rent and utility payments for families in an unexpected emergency.
"Second Collection is crucial – the program wouldn't work without it," says Mobley. "We are able to help people who would fall through the cracks because they don't qualify for service at other agencies."
Thanks to Special Collection funds, Rosie and her family are back on their way to self-sufficiency. They have been out of the hotel for three months and into a newly furnished apartment. After receiving job coaching from Catholic Charities, Rosie is employed once more.
"If it wasn't for [this program] we would still be in the hotel," Rosie remarks. "We don't ever want to end up where we used to be."
Editor's Note: Catholic Charities Special Collection takes places the weekend of November 3-4, 2012. Please give generously to support our brothers and sisters in need.