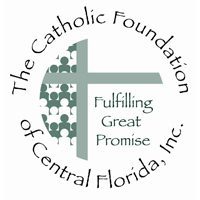 The Catholic Foundation of Central Florida has been recognized by the International Catholic Stewardship Council (ICSC) for excellence in promoting stewardship.
Meghan Post, chief administrative officer and vice president of development for the Catholic Foundation, will accept a first place award in the Total Foundation Effort category on Sept. 18, during the ICSC's 50th annual conference and exhibit in Chicago.
This award is presented annually to the diocese or entity that best promotes the spirituality of stewardship throughout the year in their written, website and audio-visual materials.
The Catholic Foundation of Central Florida encourages selfless stewardship among individuals, families, and organizations; safeguards and promotes accountability of gifts entrusted to its care; and engages donors to support the spiritual, educational, and social needs of our faith community.
The Foundation oversees the Alive in Christ Capital and Endowment Campaign to provide long-term, sustainable support for the parishes, school, agencies, and life-changing ministries across the nine-county Diocese. They also oversee the Our Catholic Appeal annual campaign. The programs and ministries made possible by Our Catholic Appeal enable our Diocese to care for the needy, strengthen families, educate young people, support our clergy, and perpetuate a culture of life.
This is the third time the Catholic Foundation of Central Florida has been recognized with an award by the ICSC. The Catholic Foundation of Central Florida also received first place in the Total Capital Campaign Effort category in 2009, and received honorable mention recognition in the Total Planned Giving Effort category in 2010.
Additionally, Eric and Diane Holm, members of St. Mary Magdalen Parish in Altamonte Springs, were recognized as Christian Stewardship Award recipients last year. The Christian Stewardship Award recognizes individuals for their generosity to their local community as well as their witness to Christ.