What is Catholic Schools Week?
According to the National Catholic Education Association, since 1974, National Catholic Schools Week is the annual celebration of Catholic education in the United States. It starts the last Sunday in January and runs all week, which in 2022 is January 30 – February 5. The theme for National Catholic Schools Week 2022 is "Catholic Schools: Faith. Excellence. Service." Schools typically observe the annual celebration week with Masses, open houses and other activities for students, families, parishioners and community members. Through these events, schools focus on the value Catholic education provides to young people and its contributions to our church, our communities and our nation.
Bishop's Letter on Catholic Schools Week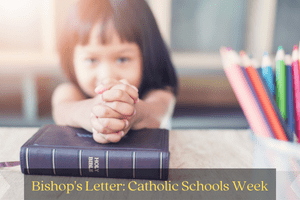 How do you celebrate Catholic Schools Week?
Each day of the week will be filled with different ways to celebrate Catholic schools. The National Catholic Education Association has provided some COVID-friendly ideas to celebrate Catholic Schools Week while staying safe. Use #CSW22 throughout the week as you post your Catholic Schools Week celebrations. https://bit.ly/3KPxYmn
Sunday: Celebrate Your Parish
Monday: Celebrating Your Community
Tuesday: Celebrating Your Students
Wednesday: Celebrating the Nation
Thursday: Celebrating Vocations
Friday: Celebrating Faculty, Staff and Volunteers
Saturday: Celebrating Families