Nearly 500 high school students gathered at Holy Family Parish in Orlando on Nov. 7 for the Diocese of Orlando's annual Youth for Life Rally. Students visited different exhibitors to learn more about the different ministries and resources available to them throughout the Diocese of Orlando. The diocesan Office of Vocations was represented by fifth year seminarians Blake Britton and Mark LaBelle who shared information about following God's call. Other exhibits featured spiritual and physical games to educate students on being Faith Fit by taking care of body, mind and soul.
This year, the rally focused on topics from Pope Francis' encyclical, Laudato Si', a new encyclical by Pope Francis about the Church's teaching on caring for our common home. Pope Francis has said that caring for our common home concerns human relationships. In his general audience from June 5, 2013, he said, "We are living in a time of crisis; we see it in the environment, but above all we see it in men and women. The human person is in danger… hence the urgent need for human ecology!"
"The goal of the event is to gain inspiration from Pope Francis and his encyclical, Laudato Si' and to discover all the interconnections in life and relationships. We are created to be in relationship with others and with all of creation," said Deborah Stafford Shearer, diocesan Director of the Office of Advocacy and Justice. "One of our hopes is that students will learn about the many ways they can contribute to improving their world and achieving their destiny to be life givers."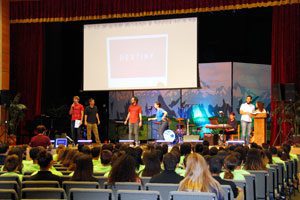 Keynote Speaker Ingrid Delgado, Associate for Social Concerns/Respect Life with the Florida Conference of Catholic Bishops, discussed how Pope Francis' encyclical is a blueprint for service.
"Pope Francis is reminding us that we must protect our families. This includes more than just our blood relatives, it's so much more. It's also about the people across the world; it's about serving our brothers and sisters you will never know but are from the same creator," said Delgado.
For 9th grade students Francesca Stallone and Christian Stanfield from Holy Family Catholic Church, this rally opened their eyes to the tragedies people face overseas.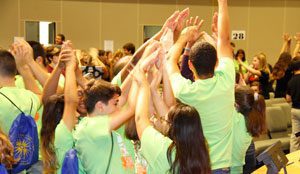 "It's surprising to see how differently people live in other parts of the world. We are all created equally, but it's still unfair to many people depending on where they live. It's up to us to use our communities and parishes to donate food and supply those with the necessities that are needed," said Stallone.
Stanfield agrees adding, "I know many of those people in harsh parts of the world have the same beliefs as I do, they are possibly questioning their own destiny, but I want to tell them that God is with them and He has a purpose for all of us."
Delgado said all of earth, all of nature praises God. All of nature was created by God. It is part of His divine plan. It is also crucial for all of us to partake in keeping it vital for future generations to come.
At the conclusion of the Youth for Life Rally, Bishop Noonan celebrated Mass with all the high school students gathered.