When seminarian Mark LaBelle thinks about how the Our Catholic Appeal helps him, his parents come to mind. LaBelle is on his fifth year of priestly formation for the Diocese of Orlando and with each passing year, he is thankful his seminary tuition, room and board are not a burden for his parents; particularly this year. Last month LaBelle's father was diagnosed with non-Hodgkin's lymphoma, the second time he's had this disease in the past four years.
"It's always comforting to know my parents don't have to worry about the cost of seminary and can devote all their attention to dealing with my dad's illness and treatment," said LaBelle.
LaBelle joined nearly 1,000 Catholics for the Mass of Thanksgiving at the Basilica of the National Shrine of Mary, Queen of the Universe in Orlando. The Mass of Thanksgiving provides Bishop Noonan with an opportunity to honor those families who faithfully support Our Catholic Appeal and to celebrate those families whose generous response to Alive in Christ has enabled the Diocese of Orlando to raise more than $152 million in pledges. Members of Vivos Christi Society and those who have given generously to Catholic Campus Ministry at the University of Central Florida are also honored at this Mass.
It's also an opportunity for seminarians like LaBelle to say thank you.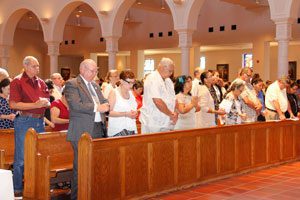 "The Alive in Christ campaign continues to ensure parish and diocesan ministries are able to revitalize and expand in our growing communities. Contributions to Catholic Campus Ministry at the University of Florida ensure the estimated 11,000 Catholic students have access to the fellowship and support of a faith-based community," said Meghan Post, President of The Catholic Foundation of Central Florida. "Our Catholic Appeal generates the sole source of funds for 28 ministries that touch every parish, every mission and every school in Central Florida. And each day, more and more people are establishing planned gifts to leave a lasting legacy in our diocese."
During Bishop John Noonan's homily, he spoke of appreciating our gifts. God continues to call everyone by name and when Catholics devote their talents and time, we are using these gifts for a greater purpose.
"We come to give thanks to God for all the gifts in our lives: our freedom, the right to practice our faith, the right to share our faith with others and the right to be able to work so we may give to those who are in need. We are giving thanks for all of these gifts on a special Mass of Thanksgiving," said Bishop Noonan.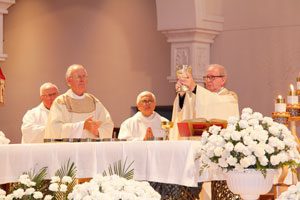 The Catholic Foundation of Central Florida is pleased with the generosity of the 44,500 donors who have contributed over $15.1 million during the 2015 Catholic Appeal. This pledge will mean food, medical care and housing for those in need. It will provide spiritual enrichment opportunities for the clergy and laity and also support the 39 seminarians, like LaBelle, in their formation and education.
For LaBelle, he is grateful history won't have to repeat. In the 1950s, his uncle Jim left seminary to help take care of his ill father. Fortunately, LaBelle can help his parents without having to walk away from his preparation for the priesthood; all of this due to the generosity of the Catholic Appeal.
"It's your encouragement, prayers and support that has made all that possible. So on behalf of my family and the 38 other seminarians who are studying for the diocese of Orlando, thank you for all that you've done," said LaBelle.