Surrounded by her four young children, Sandra Rosas, a parishioner of Incarnation Catholic Church, led a group of more than 40 Catholics in prayer outside a Planned Parenthood facility on Tampa Avenue. The faithful gathered on a chilly All Saints Day, Saturday, Nov. 1, to pray for the unborn, as part of a Diocese of Orlando Helpers' Mass and rosary.
The event began with the celebration of Mass with Father William "Doc" Holiday, pastor of Incarnation Catholic Church, an Ordinariate of the Chair of St. Peter, and continued with a short drive to the Planned Parenthood.
"We stand here for life because we were given the chance to live," Rosas said. "We are out there fighting for other's privilege to live. Only God can give, only God can take away.
"I am here to stand for life because I was given the chance, the God-given right to be alive," she continued. "It should be reciprocal. It is my turn to stand there for those who have no voice, for those that nobody sees but who are there.
The Helper's Mass and rosary procession is a national ministry where participants maintain a loving, prayerful presence at abortion clinics. The vigils begin with the celebration of Mass or a prayer service in honor of the Blessed Virgin Mary and are followed by a rosary procession to a nearby abortion site. The Diocese of Orlando Office of Advocacy and Justice holds several services and processions throughout the year.
"The unborn are the weakest members of our human family," said Deborah Shearer, director of the Office of Advocacy and Justice. "The Helpers Ministry is a witness to the fact that each human life is important, unique and deserving of protection. If there is no one to be a voice for these most vulnerable in our society, then who will be our voice when we cannot speak for ourselves.
"Pope Francis refers to the tragedy of abortion as a result of a 'throw away society' and he is correct," she continued. "If we cannot respect our own personal dignity and see the value of those who are most dependent on us, then we will continue to victimize the most fragile of our brothers and sisters and of creation."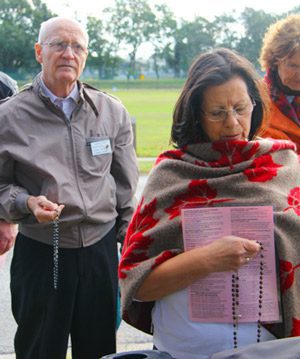 In his homily, Father Holiday reminded the congregation of the countless saints in heaven, who join us in prayer every day. These saints not only include the more well known – St. Francis of Assisi, St. John Paul II, St. Margaret Mary, and the like – but also the many men and women who have gone before us who lived and died for their faith.
"You have saints in heaven right now who have taken a stance for life," he said, addressing those who planned to go to the abortion clinic. "They did the same things that you will do today. That is the glory of being Catholic. That is the glory of the Communion of Saints. We have to appreciate that we are associated with them. Understand that you have advocates in heaven."
In 1973, the U.S. Supreme Court ruled in favor of giving women the right to have an abortion in the Roe vs. Wade case.
"As Catholics, it is important for us to pray for the protection of all life," Father Holiday said before the caravan of cars left to go to Planned Parenthood. "We have to live our faith. We can't talk about it. We have to actually live it and that is why we are here today."
Bishop John Noonan will lead the next Helper's Mass and rosary procession on Saturday, Dec. 6, at 8 a.m. at St. Mary Magdalen Parish, 861 Maitland Ave., Altamonte Springs. The rosary procession to a nearby abortion clinic follows the celebration of Mass.
For more information, contact the Office of Advocacy and Justice, advocacyjustice@orlandodiocese.org, 407-246-4819.
Editor's Note:
On January 1, 2012, the Solemnity of Mary, the Mother of God, the Personal Ordinariate of the Chair of St. Peter was established. Equivalent to a diocese, the Ordinariate is composed of parishes, groups, religious communities, and individuals of the Anglican heritage gathered around the Ordinary. Pope Benedict XVI appointed Monsignor Jeffrey Steenson as the first Ordinary of the Personal Ordinariate of the Chair of Saint Peter.