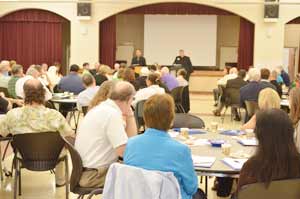 All visiting priests, religious, and lay persons who are invited to come to the diocese must receive clearance and/or permission before they are able to perform any type of public ministry, parish missions, or speaking engagements.
For priests, a Certification of Good Standing and Priestly Aptitude must be received from the priest's Bishop or Religious Superior before faculties can be granted. The request for the required certification is made by the Office of the Chancellor for Canonical Affairs. For lay speakers/presenters, a current letter from their pastor stating their credentials and certifying that they are a practicing Catholic in good standing in the Church must be received before permission is granted. Ideally, requests for clearance should be submitted at least 4 to 6 months prior to arrival.
Editor's Note: The Policy CLEARANCE FOR VISITING PRIEST OR SPEAKERS is found on the Diocese of Orlando intranet accessible by Diocese of Orlando employees.