Written by Linda Caldwell
Andrea Martinez (pictured left) closed her eyes and, focusing on God, embraced the moment Bishop John Noonan anointed her with the Chrism, sealing the Holy Spirit within her heart, in the Sacrament of Confirmation.
Martinez was among four Catholics confirmed by Bishop Noonan on April 26 at Embry Riddle Aeronautical University (ERAU). For Martinez, a 19-year-old mechanical engineering student, it was a moment she had waited for since moving to the United States from her native Colombia as a young teen.
"Today I will confirm my faith in Christ and become a full Catholic," she said, as she waited for Mass to begin. "I am very happy, very thankful. It is so exciting. I have waited a long time for this day."
Bishop Noonan reminded the faithful that they were now to be true witnesses of Christ.
"We have to let the light of Christ shine in our hearts so we can reflect that light, not just by talking the talk but also by walking the walk," he said. "We are called to be authentic."
Father Tim Daly, pastor of the Basilica of St. Paul in Daytona Beach is also campus minister at ERAU. He said there have been college students confirmed each year since he became campus minister in 2000.
Participation in the Catholic Student Union has remained strong as well, said Father Daly. This year's group boasts 170 students, which is consistent to the numbers in years past. And, in a time when studies show a continuing decline in the number of people — especially those 16-35 years old — who consider themselves part of any religion, witnessing the young adults reaffirm their faith brings hope to the religious landscape.
"These young men and women inspire my faith," Father Daly said. "I don't know if there is any secret formula to our success. A lot of it is that we empower the students to be the leaders and enkindle the faith in each other. It is the students evangelizing the students."
Father Daly said he believes the format of the ministry, which is based on four principles, attracts the young adults.
First and foremost, he said there is a spiritual component. In addition to weekly Mass, the ministry offers a Catholic prayer room at the campus Interfaith Center, where students can pray, reflect and spend quiet time with Jesus.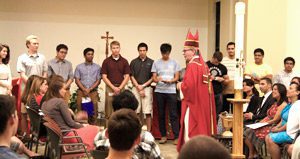 There is also the service element, where students live out their faith by serving others. This past March, a group of missionaries from the Embry-Riddle University's Catholic Student Union went to the Dominican Republic to assist in a bridge construction mission.
Father Daly said there is also a social aspect, which begins with hospitality following Mass and includes an array of activities, as well as a secretarial aspect, which includes communications and alumni relations efforts.
The group's efforts seem to be well appreciated.
"Being around all of these people who are also Catholic has helped me grow in my faith," said Zach Luther, an upcoming junior in aeronautical science and president of the Catholic Student Union. "Seeing how they live their lives, following what Jesus has taught us, the Catholic Church has taught us, gives me something to look to and something to base my life on and grow my faith."
"Being a leader has also helped me grow," he continued. "Being able to take what I have learned and show other people this is how I live my faith as a Catholic, strengthens my own faith and relationship with God, now that I am able to teach and lead by example."