"What unites us is greater than what divides us."
Joint Statement signed by Pope Francis and Bishop Munib Younan, president of the Lutheran World Federation
Following the lead of Pope Francis and leaders of the Lutheran World Federation on Oct. 31, 2016 who prayed that "Catholics and Lutherans will be able to witness together to the Gospel of Jesus Christ," Bishop John Noonan of the Diocese of Orlando, Bishop Felipe Estevez of the Diocese of St. Augustine and Bishop Marcus Lohrmann of the Evangelical Lutheran Church in America, Florida-Bahamas Synod will preside at a prayer service marking the 500th anniversary of the Protestant Reformation on June 6, 2017 at 6:30 p.m. at the Basilica of the National Shrine of Mary, Queen of the Universe, 8300 Vineland Avenue, Orlando. This is a historic day in Catholic-Lutheran relations.
All are welcome and encouraged to participate in the prayer service titled: "Common Prayer: Catholic-Lutheran Common Commemoration of the Reformation." Catholics and Lutherans are called to witness together to the mercy of God in proclamation and service to the world.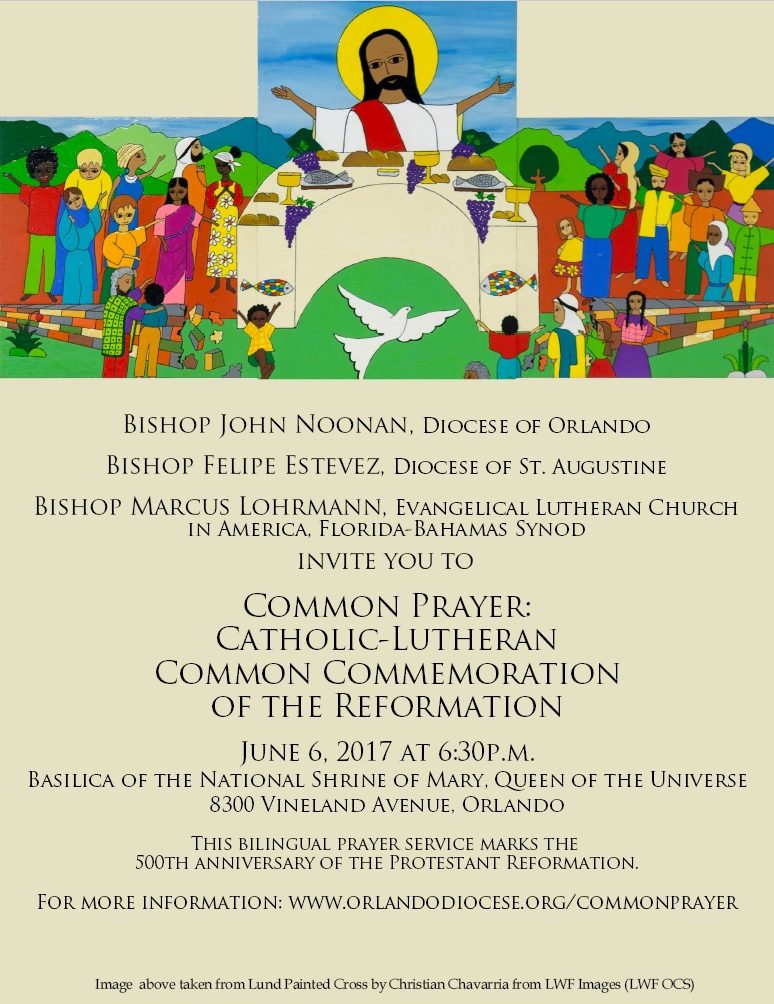 Resources
Joint Statement on the occasion of the Joint Catholic-Lutheran Commemoration of the Reformation
Pope's message during Week of Prayer for Christian Unity delivered on Jan. 19, 2017
USCCB Office of Ecumenical and Interreligious Affairs
Saint Pope John Paul II Document on Ecumenism
Message of John Paul II To The Participants In The Plenary Assembly of The Pontifical Council for Promoting Christian Unity "the movement promoting Christian unity is not just some sort of "appendix' which is added to the Church's traditional activity. Rather, ecumenism is an organic part of her life and work" (ibid., n. 20).