For Keith Arago becoming a lawyer is part of the family business. When he graduated from The University of Notre Dame Law School in 2011, he joined Arago Law Firm PLLC working alongside his mother Maureen Arago and several other family members and a close friend. Since 1991, Arago Law Firm continues to assist people facing foreclosures, bankruptcy and litigation, but lawyers such as Keith also acknowledge the rewards in living out the Catholic faith in communion with practicing law.
"Our Catholic faith fully emphasizes service; service to the poor, to the defenseless, to seek justice and truth," said Keith. "All I mentioned is also a big part of the law. Our faith tells us that the truth is key and our faith forces us to consider things in a more deep and personal way."
Keith sat in the pews of St. James Cathedral on Nov. 9 for the Red Mass with his mother and more than one hundred of his colleagues, men and women who serve as lawyers and judges. Close to 600 people participated in the celebration of the Red Mass, including 200 school children. The Red Mass is an opportunity for the community to join their voices in prayer so the Holy Spirit may provide lawyers and judges, and all legislative and judicial branches of government, wisdom and guidance while practicing law. Keith and Maureen are parishioners at St. Catherine of Siena in Kissimmee and have participated in several Red Masses throughout the years. For Keith, integrating his faith and profession provides an excellent balance.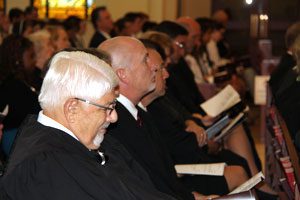 "Even though the public courts are not utilized by Canon Law or the Catechism, I think that Canon Law or the Bible generally helps us to shape our notion of truth, and it does assist in our legal responsibilities even in court," said Keith.
During the homily, Deacon Bob Pleus, who is also Judge Robert J. Pleus, Jr. (Senior Judge, Fifth District Court of Appeal), spoke of the meaning of the Red Mass.
"Red Mass began in the Middle-Ages and it is celebrated annually," said Deacon Pleus. "The Mass is called Red, to symbolize the Holy Spirit which descended upon the Apostles the first of Pentecost. We come to seek the wisdom of the Holy Spirit for the God given responsibilities all of us have."
Before Bishop Noonan's final blessing, Chief Judge of the Ninth Judicial Circuit, Frederick J. Lauten, led all lawyers as they raised their right hand and professed the Renewal of the Oath of Admission to the Florida Bar.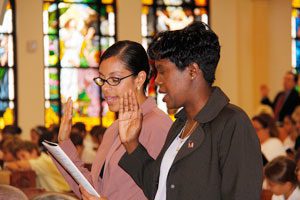 After Mass, the Catholic Lawyers Guild of Central Florida held a luncheon and an awards ceremony honoring those who serve their local communities. The St. Martin de Porres Award was bestowed upon Dave's House which provides permanent housing and services for people with serious mental illness. The St. Thomas More Award was presented to Thomas Moran, posthumously. Moran passed away on June 8 and served the legal community and the Church in an exemplary way.
"Red Mass is certainly the signature event the Catholic Lawyers Guild of Central Florida holds for the entire year. It allows us to come together, to have a Mass dedicated for everyone at the bar, to ask for wisdom, guidance, strength and understanding to carry out our work and responsibilities," said Keith Hesse, President of the Catholic Lawyers Guild of Central Florida.
For lawyers like Keith Arago, practicing law is a privilege that demands great responsibility and being part of Red Mass allows him to fulfill both commitments.
"Our profession is law, but we are also Catholics. It is an opportunity to celebrate the two and spiritually I've followed a path to serve God in all that I do," said Keith Arago.