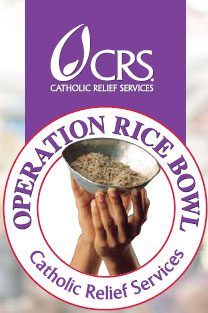 Commits $150 million to Fight Hunger; Unveils New CRS Rice Bowl Name and Program
Carolyn Woo, president and CEO of Catholic Relief Services (CRS) today unveiled CRS Rice Bowl, a major revamp of the agency's signature Lenten anti-hunger program.
"For the past 37 years during the season of Lent, Catholics in the United States participate in a popular program called Operation Rice Bowl. Today, I am announcing that we are renaming it CRS Rice Bowl", said Woo.
Speaking at a press conference marking World Food Day, Woo also highlighted the agency's efforts to fight global hunger, including a commitment of $150 million of private funds over the next three years to agriculture, food and nutrition programs. CRS' commitment is part of a $1 billion pledge by members of InterAction, an alliance of non-profit agencies in an extraordinary attempt to tackle hunger.
"It is not enough to commit funds. We must also strive for new solutions to address hunger", Woo said.
CRS Rice Bowl engages close to 13,000 parishes and schools comes with videos, stories, recipes and other supporting materials help participants connect with the lives and challenges of the poor living overseas.
"The new message of CRS Rice Bowl: For Lent, For Life – What You Give Up for Lent Changes Lives brings a particularly poignant focus to the season of Lent. CRS Rice Bowl offers us a way we can live our faith and do our part to alleviate hunger in the world", said Woo.
Local communities across the United States benefit from CRS Rice Bowl each year with 25 percent of donations staying in the diocese where it was raised. Seventy-five percent of donations support CRS programs overseas fighting hunger.
In addition to the new name and look of CRS Rice Bowl, a redesigned interactive website, accessible by computer, cell phone and tablet will be available this month and participants can register their Rice Bowls to be included on a map, receive text messages and emailed stories and prayers. All materials are available in English and Spanish.
Woo highlighted two examples of innovative approaches CRS uses to alleviate hunger and malnutrition in the developing countries where CRS works. In Lesotho, where people living in urban areas were not getting a balanced and varied diet, CRS introduced raised garden beds – what people in the United States might call 'kitchen gardens" – to provide year-round vegetables and greens to a family's diet.
In Ethiopia, where farmers of white beans were missing out on more lucrative international markets, CRS introduced improved seeds, strengthened farmer cooperatives and linked them with an Ethiopian export company that sorted, packaged and distributed the white beans to buyers in Britain.
Woo also cited CRS' work to mobilize and engage Catholics in the United States through experiences like CRS Rice Bowl as key to CRS' humanitarian work fighting world hunger and serving the poor.
Catholic Relief Services is the official international humanitarian agency of the Catholic community in the United States. The agency provides assistance to people in need in nearly 100 countries, without regard to race, religion or nationality. For more information, please visit www.crs.org or www.crsespanol.org.