Fifteen-year-old Anna of Good Shepherd Parish in Orlando was nervous about participating in the Office of Vocation's Fiat Days for Girls, May 1-3 at San Pedro Spiritual Development Center in Winter Park. Would she find a connection with girls on similar faith journeys? Would her relationship with the Blessed Mother and God deepen? As it turned out, she had nothing to fear.
"I really liked it," Anna said. "I have met new people, and I have grown in my relationship with God and Mary."
Anna was among a group of high school girls who participated in the weekend event, which was led by eight team leaders from the University of Central Florida Catholic Campus Ministry.
The word "Fiat" is Latin for "Let it be done." It refers to the Blessed Virgin Mary's response to the angel who appeared to her and announced that she would be the mother of Jesus, the son of God. Mary responded by submitting to God's will and said: "Behold, I am the handmaid of the Lord. May it be done to me according to your word" (Luke 1:38).
"Mary, more than anyone else, is a true example of discipleship," Bishop John Noonan said. "In Mary, you have a great role model. She said, 'Let it be done to me according to your word.' She also prayed, 'My soul proclaims the greatness of the Lord.' That is all the Lord wants us to do – proclaim his greatness. No matter what we do with our lives, we are called to say yes to the Lord and proclaim the greatness of God."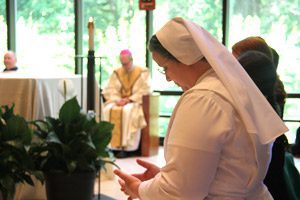 Sister of St. Joseph Kathleen Power, assistant director of vocations for the Diocese of Orlando, said the event was designed to bring the girls closer to God — through the example of the Blessed Mother. During the retreat the teens experienced prayer, listened to talks, participated in small-group discussions, praise and worship, Eucharistic Adoration and the celebration of Mass with Bishop John Noonan. Sister Power and Marist Sister Colleen Clair were available throughout the entire weekend to talk one on one with the girls about vocations, if they desired.
"I saw young women come alive, both personally and spiritually," Sister Power said. "I saw their joy at the realization that they are beloved daughters. I saw them deep in silent prayer before Jesus in the Monstrance. I saw and even joined them as they danced, played and shared their lives."
One of the more poignant talks was presented by Victoria Suro, a junior, marketing major at UCF, who spoke to the girls about Mary's role in our lives, from the moment she said 'yes' to God to today.
"Even in heaven she continues to do God's will," Suro said. "Her mission is to help her son bring all souls to heaven. Because she loves us perfectly, like she loved her son perfectly, she will do anything she can to get closer to us so that we can get closer to Jesus."
Vanessa Carrillo, president of the UCF Campus Ministry, said she hopes the girls left the retreat knowing that they are loved.
"I hope that the girls encounter Jesus and know that they are deeply loved by Christ," she said. "I hope after leaving this retreat that they walk with the faith and knowledge of knowing that they do not have to conform to society's expectations. They can walk in confidence in God, trust in God and know that he has a plan for them."