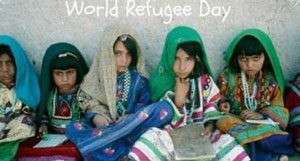 Catholic Charities of Central Florida hosts free community event on June 22, 2013
WHO: Hosted by Catholic Charities of Central Florida and open to the general public
WHAT: A cultural celebration uniting the diverse refugee population in Central Florida. Festivities include: cultural performances, arts and crafts, music, calligraphy demonstrations, world cuisine, traditional dances, face painting, and country exhibits.
WHERE: St. Margaret Mary Catholic Church, 526 N. Park Ave., Winter Park, FL 32789
WHEN: June 22, 2013 from 10:00 a.m. – 2:00 p.m.
WHY: Since 2001, World Refugee Day has been celebrated around the world on June 20th. Established by the United Nations, World Refugee Day honors the courage of refugees determined to begin a new life for their families. For over thirty-five years Catholic Charities of Central Florida has assisted more than 14,000 refugees resettle in Central Florida. On June 22, we celebrate their unique contribution to our community.
Additional Information:
Performers and artists at this event are refugees who have escaped tragedy and persecution in their homelands and have resettled in Orlando through Catholic Charities of Central Florida.
Food will be available to sample from Middle Eastern, Asian, Central American, and South American countries
Countries represented at World Refugee Day include:
Afghanistan
Burma
Butan
Colombia
Congo
Cuba
Egypt
Eritrea
Ethiopia
Haiti
Iraq
Israel
Mexico
Somalia
Sudan
Turkey
Venezuela
Catholic Charities of Central Florida is the largest non-profit social service organization in Central Florida. Their mission is to provide vital social services for people in need regardless of their religious, social, or economic background, to improve lives of individuals, families and the community. These social services include emergency financial assistance, food, medical care, transitional housing, and affordable housing programs.
Catholic Charities of Central Florida is a nationally accredited agency with the Council on Accreditation, assuring delivery of the highest quality services possible to individuals, families, and children in Central Florida.