Two priests of the Diocese of Orlando, Father Eamon Tobin, pastor of Ascension Parish in Melbourne, and Father David Scotchie, pastor of Most Precious Blood Parish in Oviedo, are passionate about proclaiming the Word of God, both in their parish communities and to people around the world. Both pastors have recently published books on prayer and are touching lives with their writing.
FATHER EAMON TOBIN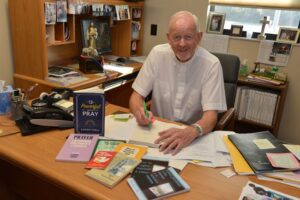 "I have no background in writing or English grammar," said Father Tobin. "I started writing booklets for RCIA and Sister of Notre Dame Margaret Gilmore at St. Joseph's Parish in Winter Haven encouraged me to send the booklets to Ligouri – they accepted two – Forgiveness and Reconciliation."
That affirmation was enough for Father Tobin to expand his work on forgiveness to a book – "How to Forgive Yourself and Others" first published by Ligouri in 1983. He followed that book with another, "Prayer: A Handbook for Catholics," first published by Ligouri in 1989, but it eventually went out of print.
The book was revised and re-released this January from Dynamic Catholic with two new chapters and new title: "13 Powerful Ways to Pray." It is divided into two sections: Four Keys to an Effective Prayer Life and Thirteen Forms of Prayer.
"People can be frequent pray – ers, but at the same time fearful of God, judging others, with little or no compassion for the poor – so prayer doesn't impact their lives," Father Tobin said. "Effective prayer impacts our lives."
The book is practical. It addresses the challenge of unanswered prayer; how prayer should help us forgive life's hurts; how prayer helps us make good decisions; and the problem of dryness. Each chapter ends with four questions for personal reflection, small group discussion and a suggested spiritual exercise.
"I grew up in a prayerful family where I saw my father on his knees on the kitchen floor before he went out to the fields," Father Tobin shared. "My aunts did a holy hour every mid-morning; another image is of my Aunt Daisy – stick in one hand, rosary in the other bringing the cows in from the fields and farmers in the field, caps off – stopping what they were doing to pray the Angelus. And every evening the rosary – never an exception – visitors were asked to join in and everyone had their decade. I was surrounded by that atmosphere of prayer – the image of St. Patrick's breastplate – Christ within me, Christ before me…"
FATHER DAVID SCOTCHIE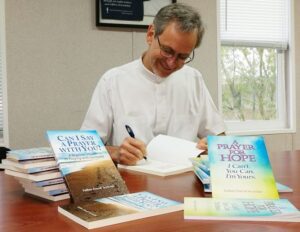 "Writing is a hobby," explained Father David Scotchie, who is also a contributor to the Florida Catholic. "I have a degree in physics and a doctorate in preaching. I love to read and recognize writing is a dinosaur – I really should be doing online or podcasts. I'm self-published. I spent a few hundred dollars to publish a book and it's been a joy for me."
Father Scotchie has written and self-published two books. His first, "A Prayer for Hope: I Can't. You Can. I'm Yours." is a prayer of surrender intended for people in overwhelming situations – divorce, death, addiction.
"The book is a presentation and explanation of one simple prayer of six words that a person can remember – 'I Can't. You Can. I'm Yours'," explained Father Scotchie. "It's specific to those in need of hope, embraces the grieving, ill and despairing. The prayer admits 'I can't handle this; God, I know you can; I trust you.' It renews that relationship with God."
Ordained in 1993, Father Scotchie explained that people see his collar and expect him to offer to pray with them.
"I've never had the words for spontaneous prayer and I felt uncomfortable praying for people publicly," Father Scotchie explained. "I've learned over the years to pray with another on the spot. When we pray with someone, we do what Jesus did and invoke God's power. Jesus didn't say, 'I'll pray for you' – he did it. As the priesthood of people we do what Jesus did. It changes the relationship from sympathy to giving witness to God in our lives."
Thus, his latest book – "Can I Say a Prayer with You? A Beginner's Guide to Praying with Someone" seeks to overcome the reluctance or fear of spontaneous prayer and provide the training and desire to help others become prayer for and with others.
Susan D'Aulerio is a parishioner at Most Precious Blood who read both of Father Scotchie's books and took action.
"I was at Dunkin' Donuts and overheard a young man phoning various social service agencies," D'Aulerio explained. "His wife kept going outside crying. She told me that they were living in their car and trying to get some help. I remembered from reading Father David's book that we should pray on the spot. I asked them if I could pray for and with them. I have never been comfortable praying out loud for someone, especially strangers, in the middle of Dunkin Donuts.  It was truly the words of the Holy Spirit that flowed from my lips.  I held their hands, we embraced, I bought them something to eat and explained the concept of: I can't. You can. I'm yours.  Both of Father David's books have impacted my life, which in turn impacted this young couple's life as well."
"I encourage people to write their own books," Father Scotchie said. "You don't have to be a published author. Everyone has a story and why not share it? It's my message."