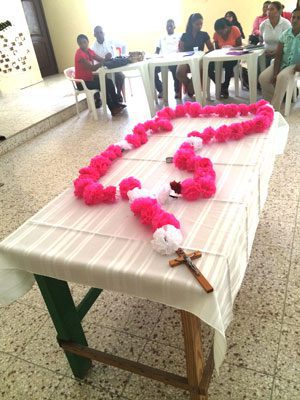 Margie Brannon brought 100 bags of pink tissue paper and pipe cleaners on her mission trip to the Dominican Republic. She then showed a group of local teachers how to use the supplies to make paper flowers and construct a large-scale rosary during a special prayer service.
"It was beautiful to hear them pray the rosary in their native language. It was a peaceful experience that ended with a song of praise, "Father I Adore You," said Brannon who teaches art at Good Shepherd Catholic School in Orlando.
Brannon and other local educators from Central Florida traveled to the Diocese of San Juan de la Maguana, Orlando's sister diocese in the Dominican Republic, for a weeklong mission of evangelization Oct. 19. They held training workshops with the goal of infusing Catholic identity into the learning process among all the Catholic schools in the region.
Participating in this education mission trip along with Brannon were Henry Fortier, Diocese of Orlando secretary of education, Dennis L. Johnson Jr., secretary for evangelization and family life; Ursuline Sister Bernadette Mackay, director of the diocesan Mission Office; Nelson Matthews, foreign language instructor at Father Lopez Catholic High School in Daytona Beach; Gloria Del Orbe, principal at Holy Redeemer Catholic School in Kissimmee; Yvonne Toro, assistant principal at Bishop Moore Catholic High School in Orlando and Maribel Waller, Spanish teacher at Resurrection Catholic School in Lakeland.
The Dominican Republic community has partnered with Diocese of Orlando for 10 years to build and staff five schools. Now the work of evangelization is expanding beyond these schools so that more children will encounter the love and mercy of Jesus Christ.
"Unlike our U.S. Catholic school system, where the laity was handed schools that had a rich tradition of 200 years of Catholic faith passed on to us from our religious sisters, brothers and priests, educators in the Dominican Republic did not have that luxury," Fortier said. "Our goal is to help the teachers understand that Catholicism isn't a topic or a subject and not just part of a culture, but it is an experience."
During the mission trip, Fortier and Johnson met with the superintendent of schools for the Diocese of San Juan de la Maguana, as well as representatives of the National Catholic Association for the Dominican Republic. They discussed catechizing teachers in schools throughout the Diocese of San Juan de la Maguana. Training sessions were also held to help local teachers with classroom discipline, assessing students and teaching styles to engage students.
"As a former missionary, what impressed me the most was seeing the people of San Juan de la Maguana taking ownership of their reality and beginning to take the steps they need to take to be leaders among their people, and to grow and evangelize their faith," said Johnson.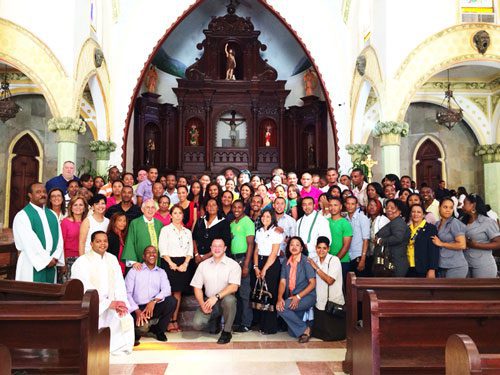 Fortier also met with Bishop José Grullón Estrella to firm up plans to build a dormitory for residents of the high school program in the mountain region of Las Lomas, made possible through a $300,000 grant from the Ruckstuhl Foundation in Baton Rouge. The dormitory is expected to open by next summer and will house 40 students.
"Because of the momentum Sister Bernie (Mackay) has gained on the hill and the quality of education, more parents want their children now to go on to school," said Fortier. "In that community it is very significant because you are talking about self-sustained farmers. The families are seeing the fruits of our schools. More and more want their children to go on to high school."
And more lives are forever changed in the process. "Education transforms, whether it is the education of secular subjects or the learning of their faith," Fortier continued, "education changes communities. It changes government structures. It changes the world."
It also unites communities of faith located 1,000 miles apart. When Margie Brannon returned to her classroom, she brought back the prayer wall she hung in the pavilion during the training workshops. Post it notes are still stuck to the wall containing the prayers of the people she encountered.
"When we open our class with prayer, we also share prayer intentions from the Diocese of San Juan de la Maguana. It's a way to bridge their community with ours," said Brannon.