The journey of faith is quite an adventure. Bl. Pier Giorgio, an avid mountain climber, used the phrase "To the Heights" to describe the way God calls us higher—to more. There are always new heights to reach, and more that God is doing in our lives. When God is the center of our lives, we discover his presence in all things, and at all points along our path. Particularly, we have the Sacraments to connect us back to God and urge us higher. This year's camp will have a special focus on the Eucharist as the source and summit of Christian life (CCC 1324).
Join us in 2018 as we explore the joy and adventure of living faithfully. As Bl. Pier Giorgio said, "The higher we go, the better we shall hear the voice of Christ."
At San Pedro Summer Camp, campers trade the distractions (and tech) of daily life for a week of faith, friends and fun! They become immersed in our faith through the sacraments and prayer. They build lifelong friendships through the fun of our low ropes course, archery and giant slip and slide. They encounter Christ through our well trained young adults who infectiously spread their love for God through witnesses and silly skits. This summer, come to San Pedro Summer Camp and be transformed by faith, friends and fun! See below for registration information.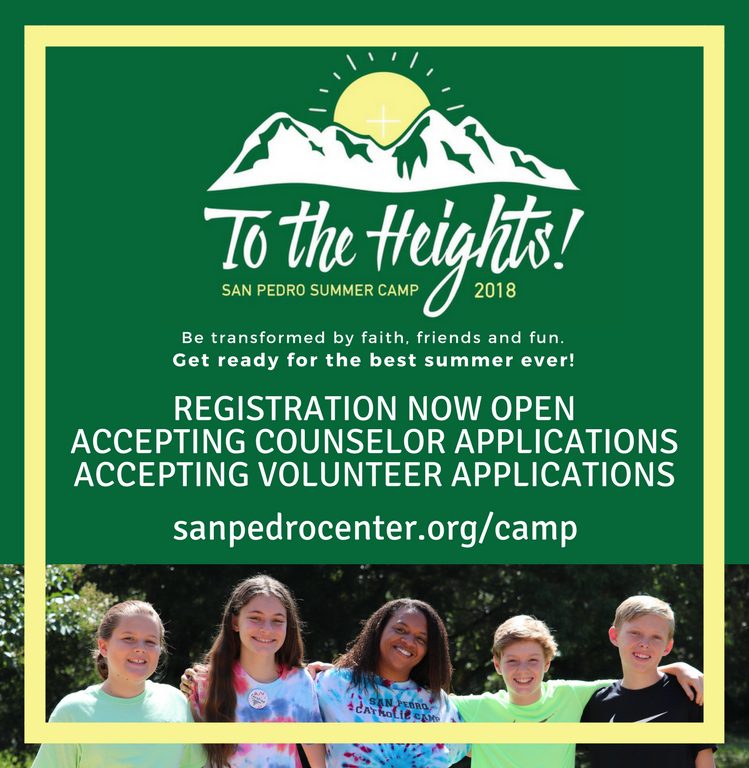 San Pedro Summer Camp 2018 Dates
June 4-8, 2018: Day Camp 1 (Entering Grades 1-8)
June 11-15, 2018: Morning Star Day Camp
June 17-22, 2018: High School Overnight (Entering Grades 9-11)
June 24-29, 2018: Middle School Overnight 1 (Entering Grades 6-8)
July 8-13, 2018: Elementary School Overnight (Entering Grades 3-5)
July 15-20, 2018: Middle School Overnight 2 (Entering Grades 6-8)
July 23-27, 2018: Day Camp 2 (Entering Grades 1-8)
Cost: Overnight Camp $450  |  Day Camp $250
We will be utilizing CampDoc.com for our full registration process this year. That means you will not only register and fill out your child's paperwork on CampDoc's website, but will pay through them as well. There is a $50.00 non-refundable deposit to register your camper.
Interested in helping at Summer Camp? Become a counselor or volunteer!