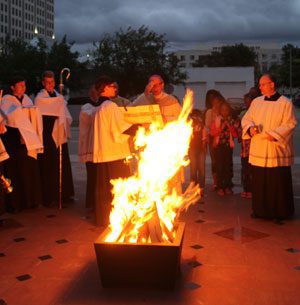 After years of searching, Ted Carroll found his home in the Catholic Church. Looking back, Carroll said God had been quietly leading him to the faith for some time.
"I have had many wonderful people in my life who are good, Catholic Christians," he said. "They inspired me to take this step."
Carroll, who is a descendent of Bishop John Carroll, the first Catholic bishop in the United States who served in the Archdiocese of Baltimore, was one of 10 people at St. James Cathedral who were welcomed into the Church at the Easter Vigil Mass, celebrated April 19 by Bishop John Noonan. Nine received the Sacraments of initiation — Baptism, Confirmation and Eucharist while one made a profession of faith and received the Sacraments of Confirmation and Eucharist. Across the Diocese of Orlando, 500 people were initiated into the Catholic Church.
"This has been a powerful experience" Carroll said. "When I was being anointed, I felt something (the Holy Spirit) come over me. My sister, who was sitting in the congregation, said she felt something, too, and she began to cry. This has been a gift."
"This is one of the beautiful occasions when the Church shines in the ritual of welcoming people," Bishop Noonan said. "All of us are on the same journey–the journey of faith. At different moments, God comes into our lives and he somehow enlightens us."
He recounted the Lenten journey we have been taking in preparing for Christ's Resurrection, beginning on Ash Wednesday, when we were asked to render our hearts, not our garments. The Gospels throughout the Season of Lent — from Jesus' trials in the desert where we are reminded that it is not on bread alone but on every word of God that we live to the transfiguration where we are called to listen to the word of God and lastly the raising of Lazarus from the dead – offer some of the greatest teachings of our faith.
"This is the journey of faith we come to tonight because as Jesus said to Lazarus, 'Come out.'" Bishop Noonan said. "He could say the same to us tonight, 'Come out.' Let Christ into your hearts because tonight we are asked to give witness — to go out into the world and tell the good news that Jesus Christ is risen."
Editor's Note:
The Easter season spans 50 days, from Easter Sunday (April 20) to Pentecost Sunday (June 8). The days are celebrated "in joyful exultation as one feast day, or better as one 'great Sunday'." The first eight days make up the Octave of Easter and are celebrated as solemnities of the Lord. On the 40th day of Easter Season (May 29), Catholics celebrate the Ascension of the Lord, and for the nine days following, prepare for the coming of the Holy Spirit on Pentecost. (CB 371, 372,376)