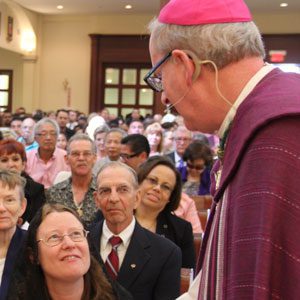 Tanya Folgore's face radiated with the love of Christ as she awaited the start of the Diocese of Orlando's Rite of Election March 9 at St. James Cathedral. To her, the day represented an end of a three-decade faith journey that ultimately brought her to the Catholic Church. Picture: Bishop Noonan greets the Catechumens.
"I am so happy," said the 42-year-old parishioner of St. Mary of the Lakes Catholic Church in Eustis. "While I have always had a strong belief in God, something was missing. I feel peace now, and I look forward to receiving the sacraments and becoming part of the Church."
Folgore was among the 500 catechumens, the term used for the unbaptized, who are preparing to become Catholic, who came before Bishop John Noonan to profess their desire to become baptized into the Catholic faith during Easter Vigil on April 19. In order to accommodate the overflow of catechumens and their sponsors, the diocese celebrates the Rite of Election during two liturgies.
The Rite is the second step in the initiation process for catechumens and marks an intense period of preparation to receive the Sacraments of initiation — Baptism, Confirmation and Eucharist. Before arriving at the Cathedral, the catechumens had signed their names in a Book of the Elect at their parishes. During the Rite of Election, the catechumenate directors processed to the altar and presented the books to Bishop Noonan, officially acknowledging their election by God, for his blessing.
"Today we celebrate a very important day in the life of the Church," Bishop Noonan said. "Today, we recognize the good work of God that has begun in the lives of each and every person."
He urged the faithful, now considered the "elect" during their final days of preparation, to join with other Catholics in growing closer to God during the Lenten season through prayer – speaking to God from the heart; fasting – giving up those things that keep them from God; and almsgiving – reaching out to those in need.
"Our hope for you during the next 40 days is to encounter Jesus Christ with your brothers and sisters," Bishop Noonan said. "And during Holy Week, you will experience the great gift, the great mystery of God – the gift of Jesus Christ."
"For the next 40 days," he added, "we pray for each and every one of you that this journey will be one of prayer, encountering God and experiencing his love for you and the world."