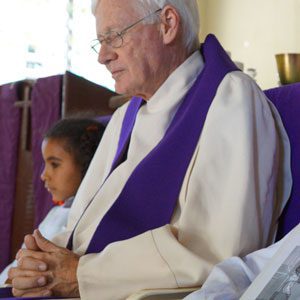 by Fr. Fred Ruse
I got a call at 11:30 p.m. Friday night from one of the community leaders in the remote village of La Cueva. Veronica, 14 years old, was in severe pain as her labor had started, her baby coming two weeks earlier than expected. I was once again inspired by the sense of community, as her fellow villagers shared their loving concerns for this young girl. There was no judgment expressed for her, only a desire for a safe delivery of her first child.
Childbirth is an exciting and frightening moment no matter where a person lives, and in that, we can find solidarity with Veronica. However, her road looks a little different than ours, literally. Of all the remote communities we serve in Las Lomas, La Cueva is the most isolated. The roads are narrow and steep, and a make-shift bridge connects them to the rest of the world, but only by mule or motorbike. This young girl was in no condition for either, but a home-birth was also unsafe as no one in the community is trained as a mid-wife.
So, this was the call I received, after a full day of missionary work myself, and once again the community came together to care for one of their own. Before I could travel to Veronica in my truck, I needed to confirm that the drive would be safe for all of us. There had been a hard rain, which can make travel dangerous or even impossible. One of the villagers went ahead on his motorbike and returned to my house with his assessment that the roads would be passable. I was grateful for his efforts, and think of the way Christ walked the road of suffering for us so that we would know the way, and that we would never suffer alone.
Together, we drove slowly and deliberately, to reach the distressed young Veronica. She, along with the child's father (only 20 years old himself), his mother and Veronica's father, pile into my truck and we begin the long and treacherous drive down the mountain, hoping against hope that we will make it. This is the love of Christ, exemplified in humanity as the family comes together to surround the anxious new parents with their support and joy.
It was stressful. The road was very wet and slippery, and I had to think every inch of the way to be sure all of this precious cargo arrived to the hospital safely. By 3 a.m. we were at the hospital, and Veronica was still in pain, but safe. Now the waiting, just like mothers in the United States, as this young girl walks and waits for the moment her baby is to be born. Many hours pass as the baby slowly prepares to come into the world.
It isn't until 10 p.m., almost 23 hours after I received the urgent phone call, another call came in, but this one was urgent with joy. Veronica's first child, a son, was born and mother and baby were healthy.
This is our faith. We journey together through the fears, the trials and the triumphs. We are invited to be co-creators with God, and to participate in the mission of Jesus Christ. In saying yes, we are blessed to share in His triumph over the grave and to celebrate life.