ORLANDO | When she was eight years old, Deborah Stafford Shearer become the sole caretaker of her mother, after an accident left her with no use of her limbs and wheelchair-bound for the rest of her life.
In and out of welfare offices, applying for disability benefits and food stamps, Shearer quickly learned advocate for both her mother and herself. When social workers attempted to place Shearer in an orphanage and her mother in a nursing home, their parish community of St. Isaac Jogues rallied to keep the family together.
These experiences ignited a fire in Shearer and she brought her passion for defending the poor and vulnerable with her to the diocesan Respect Life Office in 1991, where she has served as director for the past 28 years.
"I had all of these benefactors who would support our family," said Shearer, who received a Catholic school education through the generosity of fellow parishioners. "That's what instilled in me the real essence of social teaching and the common good and how collectively we can work to solve a lot of social problems. Not just acts of mercy, but also to advocate for other people, to help find resources so they don't fall through the cracks. There are other ways of doing things if we work together as a community to promote the dignity of the person."
In 2013, following a diocesan synod convened by Bishop Thomas Wenski, the Respect Life Office became the Office of Advocacy and Justice. While the name of the office was changed, its mission has remained the same; promoting and defending a consistent life ethic. Whether it's the unborn, people with disabilities, the elderly, farmworkers, immigrants, victims of human trafficking, or prisoners on death row, Shearer gives a voice to the voiceless and inspires others to do the same.
"We serve all populations that social teaching covers. I value that," said Shearer. "We've had other dioceses contact us on how to replicate our model. We've never lost that vision or that mission to educate and advocate. We're always raising the visibility of the problem, raising the visibility of the person who's being left out or marginalized and always asking people in authority, 'Why does it have to be this way?'"
After nearly three decades lobbying legislators in Tallahassee and Washington D.C., giving workshops at parishes, leading pro-life marches, organizing conferences for young adults and sharing the Church's "best kept secret" of Catholic social teaching, Shearer has announced her retirement as of June 1 this year. Gary Tester, executive director of Catholic Charities of Central Florida, admitted he became choked up when he heard the news and called Shearer his "fairy godmother".
"Any ministry I asked her to take on; she has. Anything I've needed to get done; she's done it," said Tester. "She has served with fidelity to Catholic teaching and knows no fear. She is a fierce advocate for her faith. She does not believe in letting go."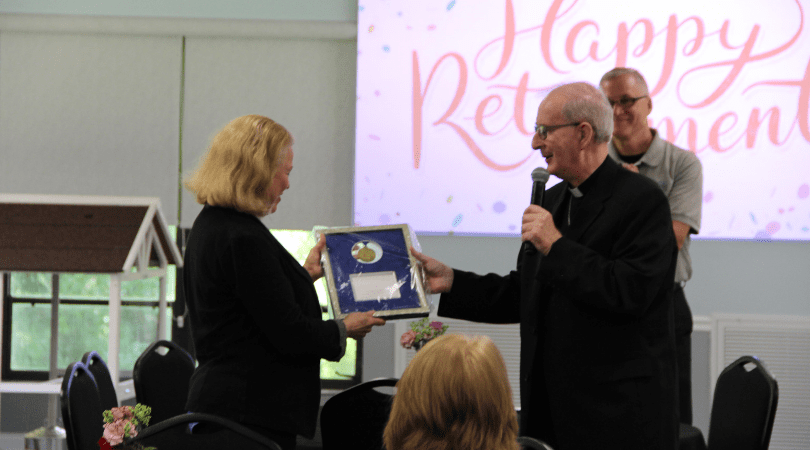 Bishop John Noonan shared the sentiment and said Shearer leaves behind big shoes to fill. "We have been truly blessed to have had Deborah with us all these years," the bishop said. "She has the resources, she has the know-how and she has the will. That is truly a great gift. She is committed, she is real and she's somebody who truly loves what she does."
Shearer loves what she does so much that she has no plans to slow down in retirement. She believes it is not only the responsibility of churches or institutions to stand up for vulnerable populations, it is the responsibility of each individual. And that it is not only legislation or policy that will effect change, it is also the actions and decisions, large and small, each person makes every day. "Registering to vote, being informed on the issues, buying fair trade, living more simply and being unafraid to speak up; it all matters," said Shearer.
"There are a lot of things we can do as individuals," explained Shearer "Everyone can educate the next person, just a little bit. If none of us do anything, the situation is never going to change. You just have to start somewhere. No one wants to recognize the humanity of whatever the issue is; whether it's a person of different culture or faith, or an unborn child or embryo. That's why we have to keep bringing up their humanity, to raise the visibility. Everybody can do that."
When the problems seem too big to face, Shearer says the Gospel gives her hope, especially Jesus' resurrection. "Even when things look bleak, there is always renewal. There is no stopping the Spirit. We are only the tools or co-creators who can't see the entire plan, but keep tilling the ground in faithfulness."
By Elizabeth Wilson, Florida Catholic Correspondent – May 13, 2019