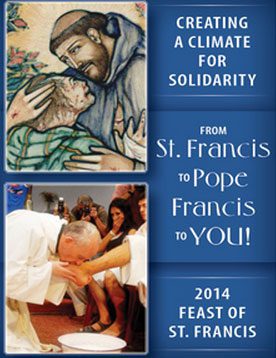 Save the Date: Saturday, October 4, 2014
The Catholic Climate Covenant is pleased to announce today on Earth Day, the 2014 Feast of St. Francis Education Program:

From St. Francis to Pope Francis to YOU! CREATING A CLIMATE FOR SOLIDARITY
Begin planning now for your parish, school, campus ministry or other group to participate in this nationwide effort.
2014 marks the 35th anniversary of St. Francis named as the Patron Saint of those who promote ecology by St. John Paul II. Pope Francis, equally inspired by St. Francis, highlighted early in his pontificate how the poor are disproportionately and unjustly harmed by environmental degradation, including climate change.
From St. Francis to Pope Francis to You! Creating a Climate for Solidarity will combine short video testimonials with group reflection processes that highlight the impacts of climate change on the world's poorest and most vulnerable people and communities. Each program will be offered in Parish, College, and Youth Versions and in both English and Spanish. All materials will be FREE of charge!
From St. Francis to Pope Francis to You! will be a theme carried through to two additional programs and that reflect the ministry of both St. Francis and Pope Francis:
From St. Francis to Pope Francis to You! A Climate for Creation

: available for Earth Day 2015

From St. Francis to Pope Francis to You! A Climate for Peace

: available for the Feast of St. Francis 2015

Begin Planning Now

for your parish, school, campus ministry or other group to participate in this nationwide effort. Mark your calendars for early October 2014 and

watch out for more information this summer!
Featured Quote from Pope Francis
"I would like to ask all those who have positions of responsibility in economic, political and social life, and all men and women of goodwill: let us be 'protectors' of creation, protectors of God's plan inscribed in nature, protectors of one another and of the environment."
– Pope Francis, Inauguration, 3/19/13
Social Justice in the News
Here are some ways that the Catholic bishops are working to protect human life and dignity:
Help End Torture; Free Toolkit of Resources
The fight against torture continues. USCCB applauded the Senate Select Committee on Intelligence's vote to release the executive summary and findings of their report on CIA interrogation practices, including torture. We now urge the President to use his moral authority to lead the declassification process so that the truth is revealed. In doing so, the U.S. can begin to regain its moral credibility as a protector of human rights. June is Torture Awareness Month and June 26 is the International Day of Support of Victims of Torture. Help end torture in U.S. policy, practice and culture by pre-ordering a free toolkit of resources from the National Religious Campaign against Torture (NRCAT), with whom USCCB works closely on this issue.
New Video on Immigration and the Catholic Church
Give Me Your Tired, Your Poor: Immigration and the Catholic Church is a new video by USCCB Migration and Refugee Services that highlights the Church's long history of pastoral care for immigrants and advocacy on immigration issues. Share the video to help Catholics and non-Catholics alike become informed about the Church's important work in these areas. Watch the video now.
Social Action Summer Institute (July 20-24, 2014)
Mark your calendar for this year's Social Action Summer Institute, sponsored by the Roundtable Association of Catholic Social Action Directors, July 20-24, 2014 in St. Louis, MO. The theme of this year's Institute is "Setting the Captives Free: Embracing Christ in the Victim, Offender, & Community." Featured speakers include Bishop Emeritus Ricardo Ramirez of Las Cruces, New Mexico; Mark Umbreit, University of Minnesota's Center for Restorative Justice and Peacemaking; Janine Geske, Director of the Marquette University Law School's Restorative Justice Initiative; and others. Get more info here.
Celebrate World Fair Trade Day on May 10
On Word Fair Trade Day (May 10), practice solidarity with your brothers and sisters around the world by supporting economic development for poor communities through supporting fair trade. Visit Catholic Relief Services Fair Trade to learn about and purchase fair trade products.
Don't Forget to Turn in Your Rice Bowls!
Lenten almsgiving can change lives through CRS Rice Bowl! Don't forget that 75% of your gift goes directly to help our poorest brothers and sisters around the world, while 25% stays in your home diocese to assist with local hunger and homelessness initiatives. Turn in what you've collected in your Rice Bowl during Lent using the online system at crsricebowl.org/give. Thank you!
2014 Alzheimer's Disease: Facts & Figures
This new report by the Alzheimer's Association provides facts and figures on caregiving; the use and cost of health care, long-term care and hospice; and a special report on women and Alzheimer's. Click here.
Data on Consumer Fraud & I.D. Theft
The 2013 Consumer Sentinel Network Data Book is now available. Florida remains the state with the highest per capita rate of reported complaints for identity theft and fraud. Metro Orlando ranks 11th for identity theft complaints in the UnitedStates and 32nd for fraud complaints. Click here to download.
Medicare Provider Utilization Database
The Centers for Medicare & Medicaid Services just released a database that shows Medicare utilization and payments information for the 100 most common inpatient services, 30 of the most common outpatient services, and all physician and other supplier procedures and services performed on more than 11 or more Medicare beneficiaries. Learn more.
Housing Solutions Center
More than 1.5 million older Americans lost their homes as a result of the mortgage crisis. An estimated 3.5 million loans to people age 50+ were underwater as of December 2011 and 600,000 loans were in foreclosure. AARP Foundation's Housing Solutions Center connects 50+ at-risk homeowners to free HUD-certified counseling, resources and education to help avoid foreclosure. To get started, call 1-855-850-2525.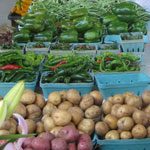 Farmworker Campaign for Fair Food
The Florida-based Coalition of Immokalee Workers educates consumers on the issue of farm labor exploitation and forges alliances between farmworkers and consumers. Their Campaign for Fair Food is an effort to enlist the market power of major corporate buyers to help end that exploitation. By enlisting the might of major restaurant chains and retailers, the farmworker Coalition has pressured growers to increase wages for their 30,000 workers in Florida and follow strict standards that mandate rest breaks and forbid sexual harassment and verbal abuse. (Florida produces 90 percent of the country's winter tomatoes.)
Unwavering Commitment to Surround Syrians with Support
Alarmingly, the Syrian civil war has entered its fourth year. With no end in sight, the Catholic Church continues to advocate for peace and humanitarian access, and to help the more than 2 million Syrians forced to flee their homes for the safety of neighboring countries. Given that children make up half of the refugee population, the needs for their care, education and counseling are especially urgent. Find out more about the Church's unwavering commitment to our brothers and sisters and how you can Surround Syrians with Support. Read More >>
Finally, the Farm Bill Passed Congress!
After three long years, the Farm Bill finally made its way out of Congress and to the President's desk to be signed into law in early February. Your tireless emails, phone calls, and visits made sure that poor and marginalized communities were a focus in the debate. Thankfully, the final version of the Farm Bill contained significant positive changes to the international provisions. Regrettably, it also included disastrous cuts to domestic anti-hunger programs, about which we Catholics will continue to pray, raise our voices and work for justice. Read More >>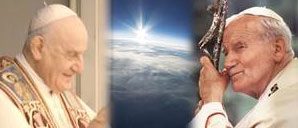 Saints John XXIII and John Paul II on Ecology
Patenaude has written a thoughtful reflection titled Celebrating the Sainted.
Patenaude considers the ecological visions of the Church's two newest saints and what we can learn from them today. Patenaude describes how Saint John Paul II innovatively brought creation care to the awareness of the church though his many writings, especially the 1990 World Day of Peace Message. He then considers how Saint John XXIII's openness to the world laid the foundation upon which his successors were able to more fully consider pressing ecological challenges. In a separate but related article, Patenaude reviews a new volume of ecological writings from one of the recent canonization's most notable audience members: Pope Emeritus Benedict XVI. The "Green Pope" and a Human Ecology is a new collection of Benedict XVI's eco-centric homilies, letters, and addresses, and Patenaude considers how this volume can continue to guide Catholic creation care.
Pope Francis and Pontifical Council for Justice and Peace
On April 4, Erwin Kräutler, Bishop of Xingu met with Pope Francis to discuss land rights in Brazil. In a follow-up interview, Bishop Kräutler said: The pope then told me that he is thinking about an encyclical on ecology and emphasized, 'human ecology too.' He's right. We can't separate the human family from the environment in which they live or abstract the environment from the men and women responsible for God's creation, the home of all humankind and of future generations too.
Earlier this month, the Pontifical Council for Justice and Peace (PCJP) celebrated the December 2013 publication of its book Energy, Justice and Peace. As reported by PCJP, Rome Reports, and Catholic News Agency the book discusses the connections between energy consumption and policy, care for creation and protection of the poor. This book reiterates and builds on the themes discussed in the U.S. Catholic bishops' 1983 committee statement On Energy.

Canadian Provincial Superior on Ecology
EcoJesuit published a recent letter on creation care from Peter Bisson, SJ, Provincial Superior of the English Jesuits in Canada. In the letter, which was first released in February 2014, Fr. Bisson reflects on GC 35 Decree 3 #32 to reiterate how creation care is an integral part of the Jesuit charism. He emphasizes that a commitment to care for God's creation is a requisite responsibility of the entire Society of Jesus and not simply an optional concern for only some members.
12 Measures to Save Energy in your Parish
Use this helpful list from GreenFaith showing how congregations can conserve energy.