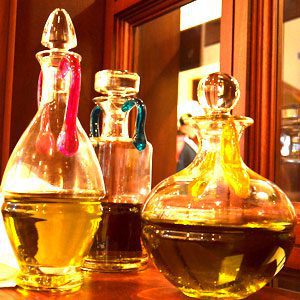 Bishop John Noonan will celebrate the Chrism Mass on Wednesday, April 16, 6:30 p.m., at St. James Cathedral, 215 N. Orange Ave., Orlando. During the Mass he will bless and consecrate the sacred oils used for Sacraments throughout the year. In addition, priests of the Diocese of Orlando will renew their commitment to priestly service, and priests celebrating 25 or 50 jubilee anniversaries will be honored.
In keeping with the celebration of the priestly jubilees and in recognition of Pope John Paul II's announcement of the Jubilee Year 2000, Charles Thatcher, director of the diocesan Office of Music, has chosen the "Hymn of the Great Jubilee," composed by Jean-Paul Lécot, as the entrance song for the celebration.
"The text seemed to really fit the Mass and the music is very joyful and inspiring," Thatcher said. "It also seemed fitting to schedule this hymn, which has such a connection to Pope John Paul II, to be sung for the Entrance Procession of our Chrism Mass, just 11 days before his canonization on April 27."
With the announcement of the Jubilee Year 2000 by Pope John Paul II, the Vatican formulated a grand plan for jubilee celebrations, which included the commissioning of an official jubilee hymn, Thatcher said. Lécot, the organist and music director of the Basilica of Lourdes, France, was chosen to compose the hymn, and poetic author Jacqueline Frédéric-Frié wrote the hymn text.
The famous Italian tenor, Andrea Bocelli, was selected by Pope John Paul II to record the Hymn of the Great Jubilee in its Italian version, "Gloria a te, Cristo Gesú." This recording achieved great success.
In 2008, St. Margaret Mary Catholic Church in Winter Park commissioned an English translation of the Hymn of the Great Jubilee for St. Margaret Mary Choir's pilgrimage to Rome in the fall of that year. Curtis Wallace, director of music, and Thatcher, who served as associate director of music at the time, approached Alan Hommerding, a well-known writer of hymn texts from Chicago, and asked him to better translate the original French text into English. The text had already been translated into English, but it had flaws.
Hommerding's beautiful translation befits Lécot's stirring, jubilant hymn tune, Thatcher said.
Editor's Note
All are invited to the Chrism Mass celebrated by Bishop John Noonan on April 16 at 6:30 p.m. at St. James Cathedral, 215 North Orange Avenue, Orlando. Please arrive early to obtain free parking, which is available at the northwest corner of Robinson Street and Orange Avenue. Additional parking, including handicapped parking, may also be found in the lot between the Chancery and St. James Cathedral. Remote access parking with bus transportation to and from the Cathedral is available at St. James Cathedral School, 505 E. Ridgewood Street, Orlando.
The following priests will be recognized for 25 or 50 years of priestly service:
25 Years
Father Chau Nguyen, St. Philip Phan Van Minh Catholic Church, Orlando
Father Blase Romano, TOR, Villa Madonna
Father Derk Schudde, Sts. Peter and Paul Catholic Church, Winter Park
Father Charles Viviano, Church of the Resurrection, Lakeland
Father Kent Walker, St. Thomas Aquinas Catholic Church, St. Cloud
50 Years
Father William Ennis, Holy Family Catholic Church, Orlando
Archbishop Edward J. Gilbert, C.Ss.R.
Father Domingo Gonzalez, Retired
Father Joseph Maniangat, Retired
Father Francis Nelson, C.Ss.R., Sacred Heart Catholic Church, New Smyrna Beach
Father Laurence Olszewski, C.S.C., Retired
Father Vincent Pierino, Retired, Extern
Father Kenneth Silvia, C.S.C., Retired
Father Frank Smith, Retired