ORLANDO | Officer Maya Tolentino worshiped at the 17th annual Blue Mass to give thanks to the faithful Father who stays close and gives her the courage and confidence to serve Him every day as a University of Central Florida police officer. She and hundreds of other first responders also received a special blessing from Bishop John Noonan ahead of the feast of St. Michael the Archangel, a reassurance that they are not alone as they answer the call to serve their brothers and sisters.
"There is an appointed time for everything," said Bishop Noonan in his homily. "Today is our time to pay tribute, to thank and to pray for all our police, firefighters, paramedics, all law enforcement officials – all first responders." He noted the many ways these first responders care for their communities: patrolling our streets, helping us when we're sick or in danger, comforting us after hurricanes and other traumatic events. "Every day these women and men set out to serve and protect us," he said. "What a beautiful testimony to the gift of life which God has given us!"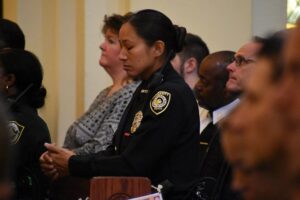 "There's always that factor of being afraid and being scared," said Officer Tolentino, a single mother of two, who chooses to serve with the Lord by her side. "I made the decision before I got into the academy that those feelings will always be there." She went on to explain her desire to become a police officer outweighed any worry. "I attribute my success to my faith in God. Life is not always easy, but my faith has always led me to find the best things in life. In return, I have devoted my life to become one of God's angels here on earth."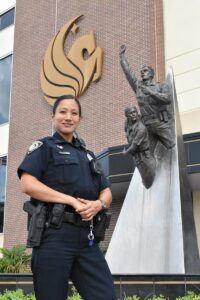 Admittedly, the job can be difficult. Officer Tolentino recalled her heart beating with
fear the first week on patrol. "All of the sudden, I calmed myself down and felt God's presence with me. After that day, I knew that I was going to always have God to be with me and to protect, along with the archangel Michael. Since then, it's always been important to me to have that kind of blessing (from the bishop), of my faith, of my Catholic community, of my parents and family. It helps me feel like I can do anything that day is going to throw at me."
Officer Tolentino admits her most challenging moment came when a student called in her own attempted suicide and possessed a weapon. In this case, Tolentino and fellow officers were able to arrive in time, take the woman in and speak with her. "I prayed that the Holy Spirit would tell me what to say," said Tolentino. Then, in a moment of grace, she felt she was given the calming words, "Will you just let me make that decision for you to live today?" Although initially reluctant, Tolentino said she suddenly saw the student shift to surrender. That student allowed law enforcement to intervene and get her the resources she needed.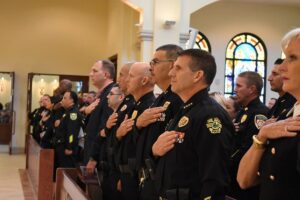 For this reason and the countless times first responders make a difference, Bishop Noonan asked, "Let us pray with gratitude for each one of them and their families, and when you see a police officer or firefighter or paramedic, purposely thank them for their attention to the gift of life; the gift of you and me."
Acknowledging the reality of her service, she said, "Before you get into this job, you have to be right with dying. As a Catholic, regardless, you have to be right with dying." She says living out each day as the best person, the best Catholic she can be and knowing that God is with her brings her peace. "Throughout the day I talk to God," she added. "I say a little prayer when I hear the sirens go by or if I hear, on the radio, my other mates going somewhere I wasn't dispatched to, I pray for them."
Striving to be the best role model possible for her daughters, Tolentino is also an Extraordinary Minister of Holy Communion at her parish of 17 years, St. Joseph in Orlando. "I just want to do the best that I can as a member of the community, as a member of the Catholic Church, as a member of my girls' school, volunteering—to try to be the best version of an angel who helps people and teaching others to help people."
By Glenda Meekins of the Florida Catholic – October 1, 2018