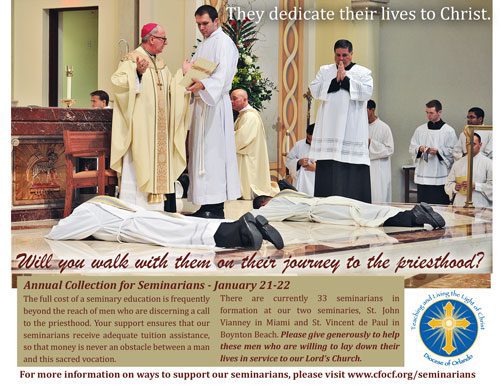 Preparing for the Sacrament of Holy Orders is a nine year process of intellectual, spiritual, pastoral and human formation that prepares men to answer the call they have received to serve God's people in love and humility.  The Diocese of Orlando supports our seminarians in every possible way, such as through love, prayer, and guidance as they discern and seek the will of God. The other way is through financial support. Our costs are $45,000 a year per seminarian that includes tuition, insurance, books, plus room and board. There are currently 33 seminarians in formation at two seminaries, St. John Vianney Seminary in Miami and St. Vincent de Paul Regional Seminary in Boynton Beach.
Please give generously to help these young men as they discern the call and you will also be helping to pass on the faith to future generations, your children, grandchildren, neighbors, and the people who will be needing a priest in a moment of crisis. On behalf of these people, we say thank you from the bottom of our hearts.
To watch a video about how your gifts support seminarians, visit https://vimeo.com/195529601. For more information on ways to support our seminarians, please visit www.cfocf.org/seminarians.