Get Materials for the New Liturgical Year: Plan ahead and get the materials you will need for the upcoming new liturgical year A. Lectionary-based bulletin inserts, ready-made Prayers of the Faithful, and the liturgical year for your electronic calendar.
LECTIONARY BULLETIN INSERTS, YEAR A
First and Second Readings
Paul Turner
CD-ROM, $39.95
ISBN 0-89390-697-2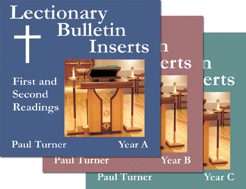 Vatican II introduced more Scripture readings into the liturgy. The homily is usually on the Gospel reading. These bulletin inserts, reflections on the first and second readings, give insight into the other two readings people have heard at Mass. People will enjoy Fr. Turner's clear and engaging style. They are designed as bulletin inserts, but can be used in any parish publication, including the website. The brief reflections help the readers understand the readings and challenge them to apply the message to their daily lives. These brief articles are organized by seasons and are presented in three different formats for your convenience.
Prepare now to have these thought-provoking reflections on the first and second readings ready to put in the bulletin, on the website, or in another parish communication. Immediately Scripture reflection becomes easy and engaging. These Scripture reflections are an excellent tool for parish study groups. Permission to reprint within the community is included.
Paul Turner, pastor of St. Anthony Parish in Kansas City, MO, holds a doctorate in sacramental theology from Sant' Anselmo University in Rome. He is a regular columnist for Ministry & Liturgy magazine and author of The Catholic Wedding Answer Book, The Catechumenate Answer Book, ML Bulletin Inserts, and Preparing the Wedding Homily.
To order visit http://www.rpinet.com/products/lbia.html. Also available are Lectionary Bulletin Inserts, YEAR B, and Lectionary Bulletin Inserts, YEAR C. You can check out samples by clicking on the links above.
To order all three for the special set price of $79.95, go to http://www.rpinet.com/products/lbia.html and scroll down. This will give you all three years of inserts at a savings of $39.90. It's like getting one year free.
Available for the coming liturgical year—Prayers of the Faithful, already constructed and editable for your parish. If your job is to write the intercessions, this will make your job easier.
PRAYERS OF THE FAITHFUL
For Year A
Millie Ferak Harmon
CD-ROM $24.95
ISBN 0-89390-771-5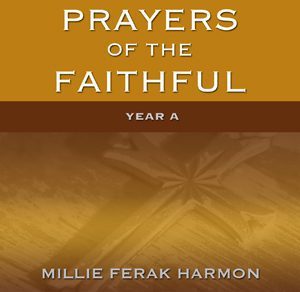 Everyone can use some inspiration in writing the Prayers of the Faithful. Week after week a new set is needed. This collection of intercessions for year A (including holy days) makes it easy. Someone else has done the work. They are available as rich text files (.rtf) on a CD so each parish can take them and personalize them according to their own needs. Each day is laid out ready to be put in the reader's (or deacon's) binder. Simply edit it to fit your own needs: add the names of the sick or deceased and mention parish events or concerns.
Most of the days have more intercessions than will be wanted, so you can pick and choose. The Sundays are not date specific, so this set can be used every three years as the readings come around. An added bonus is a list of intercessions for specific occasions, such as Veterans Day, Mothers Day, or First Holy Communion Sunday. Swipe and paste them in as needed.
About the Author
Millie Ferak Harmon has been the liturgy coordinator at St. Bartholomew Parish in Columbus, IN for fifteen years. Prior to that she worked as an English teacher and as a free-lance writer for the archdiocesan newspaper.
To order Prayers of the Faithful: For Year A call Resource Publications at 888-273-7782 (toll-free), or to order online visit www.rpinet.com/products/pfa.html.
Also available: Prayers of the Faithful: For Year C.
Liturgical Year A (2014) and/or Year B (2015) for Electronic Calendars
$39.90 per user
(special discounts for three or more users)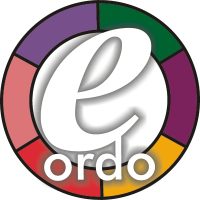 E-Ordo is a breakthrough for those who use the liturgical calendar and use an electronic PC, Mac, or PDA calendar for daily scheduling. It is in compliance with the General Norms for the Liturgical Year and the Calendar and includes all the liturgical calendar information including colors, seasons, feasts, solemnities, memorials, optional memorials, and Liturgy of the Hours citations. All readings and alternative readings are listed for every day of the week. Local variants to the universal liturgical calendar may be edited once the calendar is imported.
Act NOW to put the whole liturgical year "A" (2014) and "B" (2015) on your electronic calendar.
Quantity pricing, per user ($US):
Users per parish 2014 or 2015 Bundle 2014 and 2015
1-2 $19.95 $39.90
3-5 $14.95 $29.90
6-9 $12.95 $25.90
10 or more $9.95 $19.90
Click the link below to order.
http://www.rpinet.com/products/eordo.html
Still not sure? Want to see how it works in your calendar? Go to the above link and download the FREE 2013 Year B iCal file, and import it into your calendar.