Approximately 64 religious sisters, priests, lay people and youth ministers were among those gathered on April 9 at St. Margaret Mary Parish in Winter Park to learn how they can encourage vocations during "Dare to Invite," the Diocese of Orlando's 8th Annual Vocations Workshop.
According to the Center for Applied Research in the Apostolate, the number of diocesan priests nationally who are active in ministry decreased by almost 30 percent in the last 50 years and religious sisters have also experienced a decline. Events like this one, funded through gifts to Our Catholic Appeal, are critically important so that more men and women will discover their true calling- whether that means the priesthood, religious life, marriage, or singlehood.
"We try to help the parish teams by providing resources and providing inspiration," Sister of St. Joseph Kathleen Power said. "We hope that the presentations will deepen the call to do their work, and they will go home enthused about the vocation work they do at their parishes."
Vocation director Father Jorge Torres said the church needs more religious lay people, faithful, and priests to invite others to consider vocations.
"If three people invite someone to consider a vocation, it goes from the surface to a deeper level of discernment," he said. "They see it more as God inviting them. Jesus has no other voice but yours. Jesus has no other hands than yours."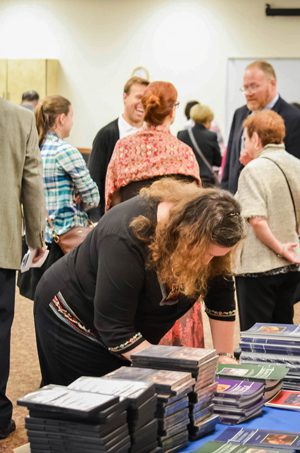 Father Tim Daly (pictured above) from the Basilica of St. Paul in Daytona Beach gave the keynote address about ways to help foster consideration of a vocation to priesthood or religious life. These include making the parishes feel like home, becoming an example of joy and being excited about priesthood.
"You want to create an environment that intentionally summons people to realize their boundless potential," he said.
He added that the art of inviting comes from frequently bringing up the topic of vocations during informal conversations with someone who shows an interest and compassion for others, goes to church on a regular basis, has a strong relationship with Jesus Christ, and shows joy, confidence, virtue and strength of character. He said a vocation comes from God and it is not their job to convince others to enter a vocation but to help plant the seeds.
"Only God can spark the flame of vocation," he said. "We can fan the flame, allow it to grow, foster, and guard it, but only God can spark the flame."
When inviting a young person to consider a vocation he asks them to be open, to pray about it, talk to someone, learn more and attend a discernment event.
Blake Britton, a seminarian with the diocese who is serving his pastoral year at Resurrection Parish and School in Lakeland, said the Church needs to do more to promote vocations.
"As a future priest it is vital for me to develop within my own heart, an awareness of vocation and how to foster that someday as a priest," he said. "We are very blessed in the Diocese of Orlando by events like these because the Church takes very seriously that God calls men and women to proclaim the Gospel."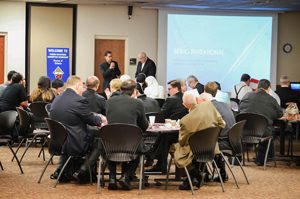 During the panel discussion, pastors were encouraged to visit school campuses to reach the young people, and parents were encouraged to pray with their children. Sister Power said it's important not to forget the women and the girls because they have an important role as well.
Rachel Bulman, who volunteers with the youth ministry at Resurrection Parish and has three young children including a five-year-old who wants to be a priest, attended the workshop. She said it's important especially as a parent, to learn about the beauty of vocation and she enjoyed discovering how everyone can do this together.
"The biggest invitation to give to people is to continue to have joy… to have joy in Him and to love Him," she said.