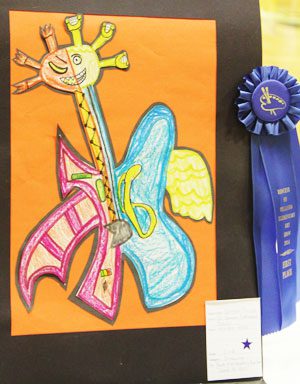 Connor, a second grade student at St. James Cathedral School in Orlando showed his creative talents when he transformed a guitar into an image that shows an angel and a devil, perhaps representing the choices between good and bad we all face in our daily lives.
Not only did his creation garner a first place prize in the 10th annual Diocesan Elementary Art Show on March 15 in the K-2 drawing category, but his drawing was recreated into a larger-than-life-size paper maché sculpture and put on display during the show, held at Bishop Moore Catholic High School in Orlando.
"I think it is neat," Connor said, pointing out the "blue part" that he painted. "And I got first place."
Connor's drawing was among the 108 entries submitted by students in grades K-8 from 27 Catholic schools in the Diocese of Orlando. The purpose of the juried show is to encourage the visual art talents of students.
"Some students excel in the area of sports, some in the area of academics, and some in the area of the arts," said Henry Fortier, superintendent for Catholic Schools. "It is our duty as good stewards of the child to help bring all of those talents to their fullest potential."
Ribbons were awarded for first, second and third place in 15 categories – grades K-2, 3-5 and 6-8 in drawing, mixed media, painting, three-dimensional and photography. Honorable mention ribbons were also given at the judges' discretion.
Fortier said all of the entries this year were exceptional and judges had a difficult time selecting the Best of Show winner. However, in the end, Bennett, a seventh-grade student from St. Charles Borromeo Catholic School in Orlando, took home that honor for his bald eagle created out of mosaic tiles.
"The diocesan art show is a critical component as to who we are as Catholic educators," Fortier said. "As Catholic schools, we promote, educate and form the whole person, and the arts are one of those components. We are helping to fully develop the gifts and talents God has given to each child."