MELBOURNE | Father Eamon Tobin grew up in Ireland in a devout Catholic family. His father's sister, Daisy, who lived with them "was a great Rosary lady", he recalls. "I fondly remember her bringing in the cows from the fields, stick in one hand and the rosary in the other, talking to the cows in between her Hail Marys," he said. His family prayed the Rosary every evening, with no exceptions. As pastor of Ascension Parish in Melbourne, Father Tobin endows that legacy during this month dedicated by the Church to Mary and honors Pope Francis' request that all people pray the Rosary daily during the month of May, for a cure to the pandemic.
The Catholic Church customarily honors Mary in May, recognizing her as a model of faith that leads us to her son, Jesus. The community of Ascension Parish meets virtually each night at 7 p.m., praying the devotion in communion as an act of faith. Pre-recorded prayers include Father Tobin with various parishioners appropriately distanced. The first night began with children of the parish and their families, praying the Sorrowful Mysteries.
Emphasizing the pope's message, Father Tobin said, "Pope Francis says in praying the Rosary, we are contemplating the face of Christ with the heart of Mary, who will unite us as a spiritual family and help us during this difficult time." He added, "Personally, I find the Rosary to be a wonderful way to pray for a wide range of global, Church and personal needs, and a great way to fulfill my promise to pray for people who have asked me to pray for them. In each of the four sets of mysteries, we pray 'for all those who have asked us to pray for them.'"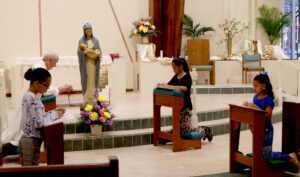 Father Tobin spent time customizing intentions for each mystery. "When praying the decades of the rosary, I offer each decade for a particular intention connected to each mystery. For example, at the Agony in the Garden, I pray for all those in agony in body mind and spirit. During this pandemic, I have tried to connect each mystery to an aspect of the pandemic." He noted, "Many believe that the Rosary has great power, seeking Mary's intercession is a wise thing for us, her children, to do. Just as a homilist seeks to connect the Sunday reading to what is going in the world and especially in people's lives, I have sought to connect the 20 mysteries of the Rosary to the pandemic."
St. Louis de Montfort writes: "The holy Rosary is a gift come down from heaven; a great present that God gives to His most faithful servants." During the month of May, Ascension parishioners unite themselves as traveling companions of Christ during His sojourn on earth.
St. John Paull II referred to the Rosary as his favorite prayer noting, "… in it I have always found comfort." Father Tobin emphasized the importance of intercessory prayer, drawing attention to the late Anthony de Mello, S.J., who said: "Until the next life we shall not realize how the destinies of persons and nations have been shaped, not so much by the external actions of powerful people and by events that seemed inevitable, but by the quiet, silent, irresistible daily prayer of persons the world will never know."
By Glenda Meekins of the Florida Catholic May 6, 2020