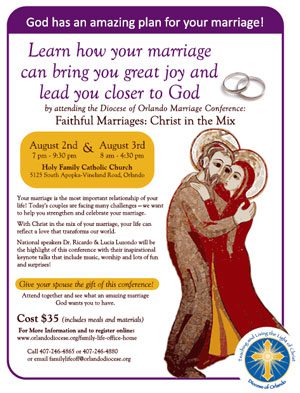 Faithful Marriages, Christ in the Mix
With "Christ in the Mix" Christian marriages are destined for greatness! We want to help married couples live out their vocation as husband and wife. This conference is designed for:
Married couples who are just starting their journey and are seeking to establish a strong foundation to weather the storms of our modern world.
Well established couples who are searching new ways to strengthen and celebrate their marriage.
Married couples at any point in their relationship who want to feel closer to each other and closer to God.
Parish leaders who are seeking to start or strengthen a marriage ministry. Married couples need our support and our mission is to help you provide resources and support so that healthy marriages will be the norm in our society and not the exception!
The Conference workshops are presented by local couples centered on the three vows promised in marriage: Permanence, Fidelity and Open to New Life. The day promises to be filled with spiritual enrichment, tools for couples, and ongoing formation for the Sacrament of Matrimony. Exhibitors include vendors specializing in Marriage Enrichment and Family Life materials from across the nation.
For all the details you need to attend and promote this conference, click here.