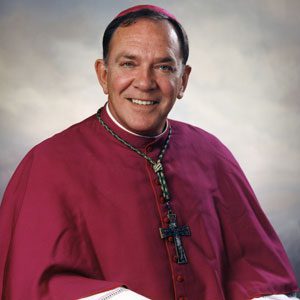 Bishop John Noonan will celebrate a Memorial Mass for Bishop Norbert M. Dorsey, C.P. on Friday, Feb. 28 at 12:10 p.m. at St. James Cathedral, 215 N. Orange Ave., Orlando.
Also, the Basilica of the National Shrine of Mary, Queen of the Universe will celebrate the life of former Diocese of Orlando Bishop Norbert Dorsey, C.P. with a concert at 7:30 p.m. on Feb. 28, which is the one year anniversary of his funeral Mass.
Bishop Dorsey, the Bishop of the Diocese of Orlando from 1990-2004, died on February 21, 2013 after a long cancer illness. The performance will feature the "Requiem in D Minor" by Wolfgang Amadeus Mozart.
"Bishop Dorsey was a great friend and supporter of the music program at the Shrine and especially of the Basilica Choir," said Dr. William Picher, director of music ministries at the Basilica. "It is an honor for us to present this program in his memory featuring the music of Mozart, one of his favorite composers."
Tickets are $10 for adults, and children 12 and under are free. Tickets are available in advance at the Basilica gift shop or by calling 407-239-6600. Tickets will also be available at the door.