The Vietnamese community gathered to celebrate the most important event in their culture, the Lunar New Year on Feb. 4. Bishop John Noonan celebrated Mass with eight diocesan priests and recalled the suffering of the Vietnamese people, but reminded them God is always with them. He shared in their cultural traditions, dances, fireworks and the handing out of cherished red envelopes – one holding a crisp dollar bill for good luck and the other with a Scripture verse on it for guidance.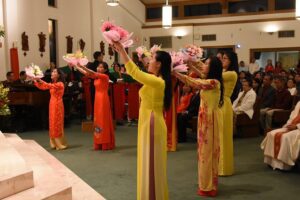 Most important in the hearts of these immigrants is the opportunity to pass on cultural traditions to their children. Father Martin Nguyen, parochial vicar of St. James Cathedral joined his fellow Vietnamese noting, "The New Year is one way for us to connect with our Fatherland, with our roots, with our culture—especially for kids who were born here, second and third generation Vietnamese. A lot of them do not speak the language well. They don't know much about Vietnam except the fact that this is what we do. The kids that are a part of it (the Mass and celebration) were born here, but they take pride in the preparation, the dances, all the activities, because it is Vietnamese. It is our culture."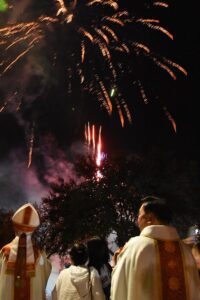 Lily Duong is from Cantho, South Vietnam – south of Saigon. She arrived in the U.S. with her siblings and mother in September 1987, after escaping communism. She was Buddhist when she met her husband, Vincent Trandoan, a cradle Catholic. Her conversion led her to a deep commitment to pass on the faith. Today, as the director of religious education at St. Philip Phan Van Minh Parish in Orlando, Duong proudly shares Catholic teaching and Vietnamese tradition. Both of her children are catechists and are learning Vietnamese. Duong says celebrations like this help them "to understand our traditions. This is the day we pay respect to our ancestors – to celebrate and wish them longevity and good health." Although she took her family to Vietnam several years ago, she feels the language and immersion in cultural traditions will help them understand who they are and where they came from.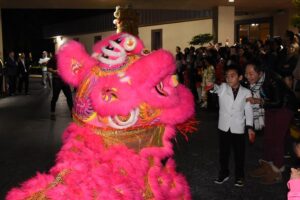 The procession, the liturgical dancers, the flowers and fruit, are all offered in thanksgiving and glory to God.  "While our celebration honors the traditions of the Vietnamese; as Catholics, we do not believe in their symbolism as pagans would.  The prayers used for Mass were taken from the Roman Missal; the readings themselves from the same option in the Lectionary," said Father Nguyen.
"It is a beautiful expression of our Catholicity (meaning universal)," he added. "The Church embraces the richness of every culture and enhances it with the light of the Gospel. On this day, Catholic Vietnamese all over the world celebrate in their local churches the joy of the New Year and pray for peace and blessing."
By Glenda Meekins of the Florida Catholic – February 5, 2019