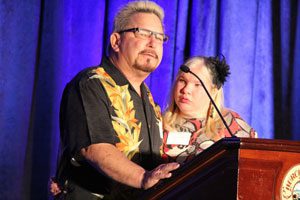 Shortly after Holly was born in 1982, her parents were told that their little girl suffered from Cri-du-chat syndrome, a rare chromosomal disorder that would leave her unable to walk and intellectually delayed. On April 11, Holly proudly stood next to her father, Cleve, as he told of his daughter's accomplishments during the past 31 years at the sixth annual Bishop Grady Villas "Achieving Their Dreams" event.
The celebration highlights the many ways adults with disabilities are able to thrive in the right environment that affirms their dignity and God given gifts.
Holly is one of 20 clients participating in the vocational training program which provide educational opportunities for people with intellectual and developmental disabilities.
Cleve said Holly progressed through school, but after high school graduation, she experienced isolation and started to become withdrawn. They heard about Bishop Grady Villas in St. Cloud, a ministry of the Diocese of Orlando, and they knew that had found a place where their daughter would thrive.
"What a change Bishop Grady Villas has made in Holly's life," Cleve said. "As a father, it is heartwarming to see your daughter grow and mature in her life over the years. That is because of the time devoted by the staff, the employees, and the volunteers who love and care for my daughter on a day to day basis."
He said that Holly loves working in the outdoor garden and greenhouse at Bishop Grady Villas and even won a second place ribbon at a local fair for a large garlic bulb she grew.
"It is a most blessed thing when I can pick my daughter up each day and she is just laughing, and smiling and chattering about her friends and what she did that day," Cleve said. "My life has been blessed to live with a special child who is full of love, a true gift of God."
"Buy Holly isn't the only gift, but one of many sent to us by God," he continued. "How do I know this? Because each time I pull though the gates of Bishop Grady Villas, there are more of God's gifts, just like her, everywhere, who have nothing but love and kindness to give to all of us."
"Bishop Grady Villas is a very special place because the people who live there are very special people and they remind us of the unconditional love that God has given each and every one of us," said Bishop John Noonan.
Bishop Grady Villas opened its doors on Jan. 1, 2004. Kevin Johnson, executive director, said today the community helps 120 people with disabilities to use their God-given gifts to achieve greater independence, physical and emotional well-being, and spiritual growth. Forty-eight men and women reside on campus as part of the residential program; 20 take part in the vocational program and 66 in the employment program. Some residents participate in more than one program.
Throughout the hour-long breakfast, stories from the clients and their parents touched the hearts of attendees.
"When they were asking some of the residents about their gifts, one of our residents said I can smile, and I am good at smiling at everybody," said Linda Shaughnessy, chair of the Board of Directors. "That always touches my heart because that is the easiest thing to do when we leave here."
"That is her talent but we all have that talent," she continued. "I invite you to smile at everyone and remember our residents. If you can share a little of the message and mission of BGV, then I think you are fulfilling what God's asked us to do in sharing of our time, talents, and treasure."
The event also offered an opportunity for attendees to make a donation to Bishop Grady Villas by pledging to share their time, talent and treasure.