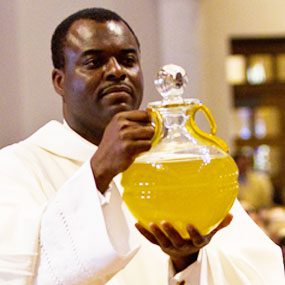 Ten Priests to Celebrate Important Milestones in their Ministry
Bishop John Noonan will celebrate the Chrism Mass on March 27 at 6:30 p.m. at St. James Cathedral in downtown Orlando. During the Mass he will bless and consecrate the sacred oils used for sacraments throughout the year. All are invited to participate in this celebration.
Priests of the Diocese of Orlando will renew their commitment to priestly service and priests celebrating 25 or 50 jubilee anniversaries will be honored. Our Diocese rejoices with the following priests who are celebrating jubilees and will be recognized at this year's Chrism Mass.
The Chrism Mass will be live streamed. To view the live stream, click here.
25 YEAR JUBILARIANS
Father Tom Barrett, Pastor, St. Brendan Catholic Church, Ormond Beach
Father Tom Barrett grew up in Providence, Rhode Island. His family members were active at the church, and his grandmother was a housekeeper at a local convent.
"Church was almost an extension of the house," he said.
Growing up, people urged him to consider the priesthood. "I kind of just shrugged it off," said Father Barrett, who also had considered a career in business management.
But the calling grew in his teens – he served as a cantor throughout high school – and Father Barrett made the decision to enter the seminary.
"I was thinking to myself for a long time, 'Where did I find the most contentment?'" he said. "It was when I was involved with something in the Church."
He studied at St. Meinrad Seminary in Indiana before being ordained by Bishop Thomas Grady on November 26, 1988. He has served as a priest at Annunciation Catholic Church in Altamonte Springs; Ascension Catholic Church in Melbourne; St Charles Borromeo Catholic Church in Orlando; Nativity Catholic Church in Longwood; and St. Brendan Catholic Church in Ormond Beach, his assignment since 2011.
Father Barrett also served as Diocese of Orlando vocations director; director of priest cemeteries; master of ceremonies; and was Bishop Moore Catholic High School chaplain for 12 years.
"In many ways, it's gone by so quickly," said Father Barrett, whose great joys include celebrating Mass and being with people during times of sorrow and joy.
Father Phil Egitto, Pastor, Our Lady of Lourdes Catholic Church, Daytona Beach
A native of Brooklyn, New York, Father Phil Egitto remembers playing "priest" when he was young. That, he said, was his first call to ministry and vocation. But it wasn't until Father Egitto attended the University of Florida that he began considering the priesthood seriously. He intended to enter the medical field, like other family members, upon graduation. But a retreat, hosted by the Diocese of Orlando, changed that.
"It was during that retreat that I felt the Lord was calling me in a very special, unique way," Father Egitto said.
Years later, after earning bachelor, master and special degrees, Father Egitto still felt the calling. He spoke with Father Edward McCarthy and began discerning, which led to studies at St. Meinrad Seminary in Indiana and St. Mary Seminary & University in Maryland. During a final year of discernment, at the Basilica of St. Paul in Daytona Beach, he became school principal. He was ordained a priest November 26, 1988.
His pastoral assignments have included St. John Vianney Catholic Church in Orlando; St. Teresa Catholic Church in Titusville; and Our Lady of Lourdes Catholic Church in Daytona Beach, where he has served since April 29, 1995. He lives Catholic social teaching and the parish's motto – "Loving the God we cannot see by loving the neighbor we can" – by leading prayer outside the Florida State Prison in Starke during executions, and striving to change structures in society that create oppression and poverty.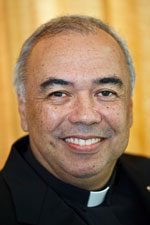 Father Fernando Gil, Judicial Vicar, Diocese of Orlando
A native of Cali, Colombia, Father Fernando Gil first felt a calling to the priesthood while attending a Claretian-run high school. But that calling blossomed while he was serving as an attorney in Colombia.
"It was a case in which I was asked to defend a priest from the U.S., who was doing mission work in Colombia and had been accused of a crime," Father Gil said. "While working with him, he said he thought I'd make a good priest."
While his first reaction was no, Father Gil went to a monastery for two weeks to pray in seclusion. This led him to reconsider his vocation, and his faith journey led him to Orlando, which presented him an opportunity in a growing Hispanic community.
Father Gil studied canon law at the Catholic University of America in Washington, D.C., and was ordained a priest in November 26, 1988. Currently judicial vicar in the Diocese of Orlando Tribunal Office, his previous pastoral assignments include the Basilica of St. Paul in Daytona Beach; St. Peter Catholic Church and San Jose Mission in Deland; St. Rose of Lima Catholic Church in Poinciana; St. Isaac Jogues Catholic Church in Orlando; Most Precious Blood Catholic Church in Oviedo; Sts. Peter and Paul Catholic Church in Winter Park; and St. Faustina Catholic Church in Clermont. He has also served as the Director of Hispanic Ministry and Farmworker Ministry for the Diocese.
Overall, the move from civil lawyer to canon lawyer and the priesthood was the right one.
"I wouldn't change it for anything else," he said.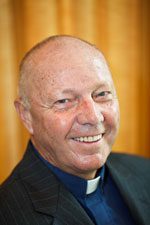 Father Yvon Hache, Parochial Vicar, St. Luke Catholic Church, Barefoot Bay
Father Yvon Hache was working for the social services department in the province of New Brunswick, Canada, in the 1980s when he felt the call to join the priesthood, he said.
At his home parish, St. Theresa of Avila Catholic Church, in the village of Robertville, New Brunswick, he was asked by his priest to sing the Easter Exsultet (Proclamation) during the Vigil Mass. That hymn is usually reserved for a deacon, but the Diocese of Bathurst didn't have any permanent deacons.
"There was something that caught me when I sang that," Father Hache said. "From that moment on, I started thinking about being a priest."
After two more years of volunteering and working with children, Father Hache began his studies at the Grand Seminary of Montreal, and was ordained December 8, 1988, a priest of the Diocese of Bathurst.
"I thought I would be better off giving everything up and becoming a priest," he said.
He served three parishes in his home diocese before relocating to Florida on Sept. 1, 2001, his birthday. In the Diocese of Orlando, his assignments have included St. Timothy Catholic Church in Lady Lake; St. Catherine of Siena Catholic Church in Kissimmee; the Basilica of the National Shrine of Mary Queen of the Universe in Orlando; St. Rose of Lima Catholic Church in Poinciana; and he has served at St. Luke Catholic Church in Barefoot Bay – the southernmost parish in the Diocese – since 2007.
Father Hache attributes Mother Teresa with his motto, "to bring Jesus to people and bring people to Jesus."
50 YEAR JUBILARIANS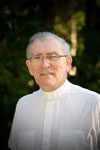 Father John Bluett, Pastor, St. Stephen Catholic Church, Winter Springs
Father John Bluett has always been passionate about helping and serving others. That was one reason he became a priest.
"It was a desire on my part to help other people, to spread the word of God and to hopefully make a difference in the world in which I live," he said.
Born in County Limerick, Ireland, Father Bluett entered St. John's College Seminary after high school. As a first-year seminarian, he was encouraged by a priest from his home parish, who was working in Miami, to move to Florida upon ordination. Two months after his ordination June 13, 1963, he was assigned to St. Charles Borromeo Catholic Church and Bishop Moore Catholic High School in Orlando.
Father Bluett also served the Diocese of Orlando as vice chancellor to Bishop William Borders, chancellor and Director of the Office of Family Life. In 1972 he was assigned to serve as pastor of St. Margaret Mary Catholic Church in Winter Park. In 1985, he established St. Stephen Catholic Church in Winter Springs and the community of 2,300 families just celebrated its 25th anniversary in 2012.
"I saw a need for a parish in the Winter Springs area," he said, "and requested to start one. Bishop (Thomas) Grady gave it his stamp of approval and the rest is history."
Father Bluett – one of five brothers to enter the priesthood – has also been active in community outreach and serving central Florida's less fortunate. He was a founding board member of Pathways to Care (2005), a ministry of Catholic Charities of Central Florida, and Pathways to Home (2009) in Seminole County. He also helped open a charter school in Sanford.
He has earned many awards from local organizations, but said he is best recognized by serving the poorest of the poor in his community.
"It's not about me, it's about Jesus Christ, and serving His people," Father Bluett said.
Father Howard King, retired (No Photo Available)
Much of Father Howard King's ministry has been spent serving the people of his home Diocese of Erie, Pa. After 45 years of ministry, he retired, relocating to the Diocese of Orlando, where he now assists at St. Vincent de Paul Catholic Church in Wildwood.
Born in March 1937 in Sharon, Pa., Father King was ordained a priest at St. Peter Cathedral, Erie, Pa. at the age of 26 after studying at Christ the King Seminary. Throughout his ministry, Father King served as a pastor, parochial vicar and a high school teacher and as a member of the diocesan Presbyteral Council. In addition, he studied at the Mathematics Institute at the University of Vermont, Burlington during the summers 1970-1975 on a National Science Foundation grant.
"Father King has been a blessing to our parish," said Father Peter Sagorski, pastor at St. Vincent de Paul Catholic Church. "He is a down-to-earth servant of God. Our parishioners love him."
Father Thomas McMackin, retired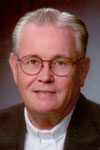 As a young boy, Father Thomas McMackin would stay after school to help his teachers, the Sisters of St. Joseph of Peace of Newark, N.J. He worked with them so much that his mother would often comment that she was going to move his bed over to the school. Father McMackin attributes his call to the priesthood, first to the grace of God, and secondly to the example of devotion and faithfulness of his loving mother and the sisters.
After studying at Divine Word Seminary in Conesus, N.Y. and St. Mary Mission Seminary in Techny, Ill., Father McMackin was ordained to the priesthood on Feb. 2, 1963 by Chicago Auxiliary Bishop Raymond Hillinger. Following ordination and pastoral studies at Catholic University in Washington, D.C. and in Paraguay, Father McMackin was invited to serve in the Diocese of Orlando in 1967. Four years later, he was incarnated into the diocese by Bishop William D. Borders.
As a minister to Central Florida, Father McMackin has served as an associate pastor and as pastor in parishes in five of the six deaneries. In addition, he was a member of several diocesan committees. Father McMackin retired in 2005 and now assists at the Basilica of St. Paul's in Daytona Beach.
"I have been privileged to serve the people of God and bring the priesthood of Jesus alive in our time through the celebration of the Eucharist, preaching the Word, baptizing, forgiving sins, anointing the sick, burying the dead, Christian marriage and shepherding God's sheep," Father McMackin said. "It has been a wonderful life and I thank God every day for the people I have served during my 50 years of priesthood."
Father Donald Mainardi, retired
Growing up in Brooklyn, N.Y., Father Donald Mainardi recalls the kind nature of the priests and religious sisters, who not only taught him to read and write, but also how to truly love God. Father Donald Mainardi was ordained on June 18, 1963 for the Third Order Regular of St. Francis at the National Shrine of the Immaculate Conception, Washington, D.C. He was incardinated to the Diocese of Orlando on April 30, 1993. He furthered his education, studying medical ethics at Marquette University, history and literature at St. John's University in Collegeville, Minn., and sacramental theology at the Catholic Theological Union in Chicago.
Father Mainardi ministered to the faithful throughout the Midwest and eastern United States. He served as a teacher in seminary, high school, college and nursing schools; as a chaplain in hospitals and in the military; and as a parish priest, administrator, director and pastor.
Within the Diocese of Orlando, Father Mainardi served as director of the San Pedro Spiritual Development Center, administrator of St. Matthew's Catholic Church in Winter Haven, and as pastor at St. Charles Borromeo in Orlando, St. John the Baptist in Dunnellon, and Blessed Sacrament in Cocoa. He also served on several boards and councils. Since retiring, he has assisted at St. John the Evangelist Catholic Church in Viera.
Looking back on the past 50 years as a priest, Fr. Mainardi considers himself truly blessed in that he was privileged to serve in the fullness of his priesthood. "I have been given the opportunity to meet so many of God's people," he said. "I am thankful for the many opportunities I have had in helping guide them in moments of difficulties and in sharing in their joys."
Father Patrick Seelman, T.O.R., retired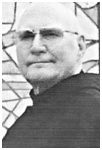 Third Order Regular of St. Francis Father Patrick Seelman was serving in the U.S. Navy when he heard God's calling to the priesthood. Heeding God's call, Father Seelman left a career in the military to pursue a ministry with his Lord. Father Seelman was ordained in 1963 at the National Shrine of Immaculate Conception in Washington, D.C., after studying at the Catholic University of America in Washington, D.C.
His ministry took him throughout the eastern United States and to South America, where he served as a pastor in Minnesota, Pennsylvania, New York and Paraguay. He retired in 2003, settling in the Diocese of Orlando, where he has assisted at San Pedro Development Center and at parishes throughout the diocese.
Father Seelman said his ministry has been a blessing as well as a "happy and joyful time."
Father Richard Grasso, retired (No Photo Available)
Father Richard Grasso attributes his deep faith and love of God to his parents. As a young boy, growing up in Daytona Beach, he said he was drawn to their commitment to serving God. "I may have learned theology at the seminary," Father Grasso said, "but I learned how to be a priest from my mother and father.
Father Grasso attended Basilica School of St. Paul in Daytona Beach through the eighth grade, where he was taught by Dominican sisters, who he deemed as "angels of mercy." He continued his education at Seabreeze High School, where he graduated in 1955 as salutatorian of the class. Father Grasso earned his degree in classical language with a minor in philosophy from Seaton Hall University, before entering the Immaculate Conception Seminary in Mahwah, N.J. In May 1963, he was ordained to the priesthood by Bishop James Navagh in the Diocese of Paterson, New Jersey. That year he also earned a master's of Divinity from The Catholic University of America in Washington, D.C.
Father Grasso served in the Spanish apostolate in parishes throughout New Jersey for several years before continuing his ministry as a high school educator. From 1973-1992, Father Grasso taught Latin, Spanish and English classes in several high schools in New Jersey and Daytona Beach, including his alma mater. He retired from teaching in 1992, and continued his priestly ministry serving parishes throughout the Diocese of Orlando.
Today, Father Grasso assists at Prince of Peach Catholic Church in Ormond Beach. Looking back on his ministry, Father Grasso said he has been blessed with a happy life.