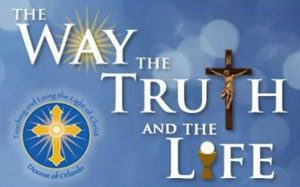 Bishop John Noonan has announced a new video series in the Diocese of Orlando to help people know the core tenets of the Catholic faith and how to integrate those tenets into daily life.
The series is titled "The Way, The Truth and The Life" and it is comprised of eight videos and based on Sacred Scripture:
"Master, we do not know where you are going; how can we know the way? Jesus said to him, "I am the way and the truth and the life. No one comes to the Father except through me." (John 14:5-6)
The videos and associated resources are found online at https://www.orlandodiocese.org/waytruthlife.
The videos and resources are available in Spanish here: