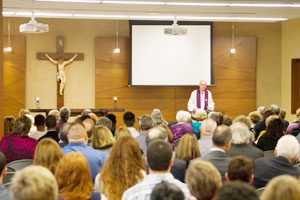 Five years after the journey to construct a new home for the Catholic Campus Ministry at the University of Central Florida (UCF) began, the prayers of many were answered with the blessing and dedication of new Catholic Campus Ministry Center by Bishop John Noonan on Dec. 16. More than 250 people filled the multi-purpose room, which is also used as a sanctuary, for the joyful celebration.
"Dear friends, after much work and prayer by so many members of our diocese, we gather to bless and to dedicate this new Catholic Campus ministry Center," Bishop Noonan said. "It will be a center for campus ministry activities and a witness of the faith to all who enter."
"Here the students of this university will have the opportunity to grow in their relationship with God, to know each other as brothers and sisters in the Lord," he continued. "Here the students and visitors alike always will be welcome in the spirit of Jesus Christ. May the Word of God echo from these walls that all will know the Good News of salvation."
The 20,000 square foot Center replaces the ministry's previous home, a 2,400 square foot storefront located off campus. It is housed in Northview, a 600-bed luxury off-campus student apartment complex, which opened in August 2013 and is also home for the Hillell Center, which serves the Jewish student population.
"We have been longing for a permanent home for campus ministry at UCF," said Tony Marco, associate campus minister. "This new center is a tremendous gift that will lead to a flourishing of the Catholic faith on campus for those currently involved in Campus Ministry, and will be a beacon of hope to students who are rediscovering their faith."
Attendees had the opportunity to tour the new facility. The first floor of the space includes a welcoming reception area; the director's office; the multi-purpose/sanctuary; a café with a fully-equipped kitchen and plenty of seating; a small chapel named in memory of the late Joe Sciortino; a student lounge; and several meeting areas which can be used for classrooms as well. Plans for how to best utilize the space are still underway; however, the space now includes offices for ministry leaders, such as Marco.
"I remember when I first walked into this center before it opened," said Audrey Kovacic, a senior at UCF. "Nothing was in place. I walked across the threshold, and I felt at home. It was such a great experience.
"When I think about this center, I think about the hope that it brings me and the potential that we have here. It brings me hope to know that in the last days I have here, that I can unite my studies with my faith. I can come here and study and work on job applications and other things I may have to do, but when I get tired or frustrated or stressed out, I can go a few feet down the hallway and spend time with my Savior Jesus Christ. I can come here for the sacraments; I can come here and find a family and a home. That is exciting for me."
During the dedication, Society of Precious Blood Father Ben Berinti, director of Campus Ministry at UCF, thanked his predecessors, Father David Scotchie, now pastor of Most Precious Blood Parish, Father Stephen Parkes, pastor of Annunciation Parish, and Father Scott Circe, vice rector at St. John Vianney College Seminary, for their efforts in laying the groundwork. While the construction of the site took five years, the dream spanned many more, he said.
"The U.S. Bishops have said that the Church seeks to help higher education attain its lofty goal of developing a culture in which human beings can realize their full potential," Father Berinti said. "That is what this Catholic Center is about. It is first and foremost for the Catholic members of our students, faculty and staff, but the Catholic presence at the University is always a presence for the entire community and that is who we are for and that is who we intended to build our programming around for because we are all about the development of the human person."
"After seeing today, I am overwhelmed by the generosity of all of these people who have made this happen, as well as the support from Hillel, which has been amazing," said Sharon Cekala of Sts. Peter & Paul Catholic Church, who has been volunteering for UCF's Campus Ministry for nearly a decade and remembers very well the tight quarters of previous meeting places. "What a blessing that it has come to this."