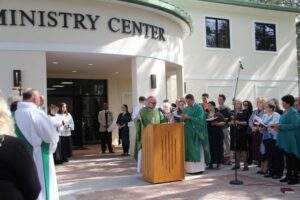 There was standing room only Sunday, Feb. 5, at Sts. Peter and Paul Parish in Winter Park as Bishop John Noonan processed into the church to celebrate Mass, bless the new Ministry Center and inaugurate festivities for the parish's 50th anniversary kick-off.
Bishop Noonan recalled the early beginnings of the parish in 1967, when Masses were celebrated in San Pedro Center's "laundry room." Later they moved to a Baptist church and even an elementary school until their first building, referred to as 'the dome' was built in 1969.
When the new church was built in 1980, 'the dome' became a center for social activities and the social hall was converted to a Child Care Center. Throughout the years, the parish continued to grow, adding on another building with classrooms and a large meeting room.
With almost 50 active ministries, the parish has expanded to roughly 3,000 families, a far cry from their first building which sat 200 people. Greeter Miguel Vargas has been a parishioner for 19 years. His daughter was baptized in 'the dome.' "This is wonderful," he said. "The growth is noticeable. I hope that the new building brings an increase in people."
Father Derk Schudde, pastor, explained, "We no longer had enough space to accommodate all the meetings and activities of a large, busy parish. The Ministry Center will allow us fill that need."
The new building has six large rooms, each accommodating 50-75 people. Three of the rooms have movable walls to allow various configurations for even larger groups and meetings.
The Ministry Center is two stories and will also house staff offices and a reception area.  "By combining all our parish offices together upstairs, I hope we will be a more cohesive and effective team," said Father Schudde. "With a centralized and highly visible space, the new center will become the hub of ministry and activity for the parish. And this will give us the flexibility to add more ministries to serve the people in this area."
In Bishop Noonan's homily, he spoke of how the parish's namesakes, Sts. Peter and Paul, were flawed human beings that "loved the Lord" and were committed to ministry. "Today, we are going to bless your Ministry Center—a building that is going to inspire us too, because the building is only symbolic." He added, "Ministry is faith in action. We are called to be living symbols like Peter and Paul. We are called to be dedicated to the Lord; a city on a hill; a point of direction."
"It is not enough to say, 'I am a Christian. I am a Catholic.' What do I do when I go out the door?" He added, as St. Paul says in the Gospel, "It is the spiritual power of God" that enables us to go out and proclaim."
Both Bishop Noonan and Father Schudde had a bounce in their step as they entered the Ministry Center and sprinkled each office and meeting space with holy water with effusive joy. Boy Scouts from resident Troop 613, then led tours of the building.
Looking forward, the parish has a year full of activities to mark its 50th anniversary "to remind us of how we have become such a beautiful, faithful, and special parish," said Father Schudde – from a beautification project and parish picnic to 50 Hours of Prayer.
Bishop Noonan's final prayer gave insight to the road ahead which has been paved through great labor and love, "May this building be a source of strength. May it be the city on a hill to guide us on our journey –our journey as St. Paul tells us, to the Lord, that we too can bring Christ to the world—for we are the disciples. We are the messengers."