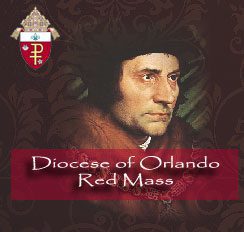 Bishop John Noonan will celebrate the Red Mass at 12:10 p.m. June 24 at St. James Cathedral, 215 N. Orange Avenue, Orlando, and invites those members of the judiciary, including judges, attorneys and all members of the legal profession to join him in prayer and ask the Spirit of God for wisdom, and to guide and direct them in their service. During the Red Mass, Catholics reaffirm their commitment to justice and their faith. The use of the word "red" refers to the red vestments worn by the celebrants to signify the Holy Spirit.
June 22 is the feast of St. Thomas More, Protector of Lawyers. Thomas More was born into a noble family in London in 1477 and studied law. He enjoyed great fortune with the ascent of Henry VIII, who used him for diplomatic missions, had him knighted in 1521 and made him lord chancellor. He came to oppose the king, however, and refused to support him as the head of the English Church against the Roman Catholic Church. In 1535, he was accused of treason, imprisoned and beheaded. A celebrated man of letters, More was the author of "Utopia" among other words. Beatified in 1886, he was canonized in 1935 by Pope Pius XI.
For more information, email redmasscommittee@orlandodiocese.org.