SANFORD | Following tradition of more than 20 years, Bishop John Noonan read to first grade students at All Souls Catholic School in Sanford. The children were dressed as saints in honor of All Saints Day, Nov. 1. From St. Peter to St. Katharine Drexel, the first American-born saint, the children extolled their saints' image and admirable traits. After Mass, the bishop read them a book.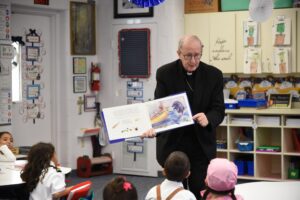 "Saints help us. They are people who come to us to help us in our journey of life," Bishop Noonan said. "All of us have saints in our lives. Sometimes those saints are parents, grandparents or teachers. Sometimes they're just friends. Some we never know, but the Church wants us to remember they became famous because they helped other people. They became famous because they wanted to help us get to Heaven."
This is Mary Moran's 25th year at All Souls and her 23rd year teaching first grade. The assistant principal and teacher said, "This tradition originally began as the children celebrated Children's Book Week with Bishop Norbert Dorsey and continued with Bishop (Thomas) Wenski." As a former principal and teacher himself, Bishop Noonan was happy to continue the tradition. This is his ninth year participating.
As part of the project, the children had to research their saint, put together a costume and then share what they learned at Mass. Afterwards, they headed to class to hear Bishop Noonan read "The Little Sailboat and the Big Storm".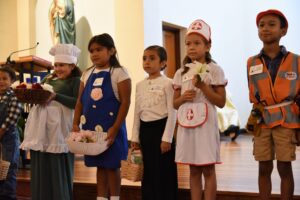 Reading slowly and full of expression, he walked around the classroom patiently to ensure everyone could see the vivid illustrations. In the book, the "little sailboat" learns to believe he can overcome the "big storm" by believing in himself. "I can do it," says the sailboat. Bishop Noonan reminded the students they too are strong and can persevere if they use their "head and heart", just as the little sailboat did.
Principal Barbara Schirard remembers her own children participating more than 20 years ago. "Having Bishop Noonan on campus; watching our students interact with him; watching our parents come and realizing that they are the first formators of the faith, is the highlight of our year. The Catholic family is just so precious. He (Bishop Noonan) brings joy to everyone that he serves," she said.
By Glenda Meekins of the Florida Catholic  November 06, 2019